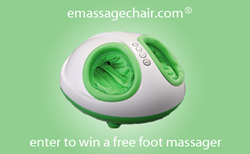 The focus on self-improvement month is different than a New Years' resolution, mainly in the fact that it isn't about huge life changes, but small changes or improvements that keep you focused on your goals and really add up over time
Las Vegas, NV (PRWEB) September 23, 2014
September is Self-Improvement Month and the Massage Chair Experts at Emassagechair.com want to help people improve their lives every day. This month long event encourages people to take steps either big or small to make improvements in their lives. The idea of Self-Improvement Month is to help people evaluate their lives and make easy adjustments towards their goals. Whether it be organizing the home, starting an exercise program, or getting on track with finances, this month is about taking that first step. An Emassagechair.com spokesman mentions, "The focus on self-improvement month is different than a New Years' resolution, mainly in the fact that it isn't about huge life changes, but small changes or improvements that keep you focused on your goals and really add up over time." Self-Improvement isn't about drastic life changes, but smaller tweaks. It is a great time to self-evaluate, take a look at the things that might need work, and develop an easy strategy towards making that change.
Of course to many, the idea of making life changes may be stressful and everyone knows that making improvements can be hard work. Emassagechair makes self-improvement much more fun by giving away two Cozzia CS-7010 foot massagers by liking their Facebook page. Not only will participants enter for a chance to win a free foot massager, which is valued at $249, but they will also be kept up to date with health and wellness tips. The Free Foot Massager Giveaway ends September 30th and the winners will be announced on October 1st.
The Massage Chair Experts encourage people to enter and then share the giveaway for a better chance of winning. For every friend that enters, an additional entry is added to the person who shared the post. They also hope that people take advantage of Self-Improvement month, taking steps towards better overall health and wellness. It's the perfect opportunity to start something new, take on a new challenge, and create a better lifestyle overall.
Interested in learning more about Self-Improvement Month? Want some tips on how to get started? Emassagechair.com has also listed many different ways for people to help improve their lives. They have dedicated a blog post titled September is Self-Improvement Month - Tips on Living a Happier and Healthier Life. This post is geared towards different types of people and is a great general article on learning more about Self-Improvement. Emassagechair also wrote about 5 Tips on Improving Your Life, which is more focused quick tips that anyone can do.
Emassagechair is always there for shoppers and can help answer any massager or massage chair questions. Questions about the giveaway? Reach out to the Massage Chair Experts by calling or emailing them at the information below.
Emassagechair.com
888-360-9996
support(at)emassagechair(dot)com