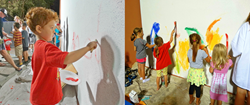 Garden Grove, CA (PRWEB) September 22, 2014
Despite being less than a month away from one of the City's biggest community events, Re:Imagine Garden Grove – A Downtown Open Streets Event, plans have yet to draw to an end. In fact, for NFL quarterback turned professional artist, Todd Marinovich, the drawing has just started. The City has commissioned him to paint a mural on the south wall of the Gem Theatre to coincide with the event. Marinovich will join City officials for the unveiling of his 25' x 30' artwork during Re:Imagine's opening ceremony on Sunday, October 12, at 11:00 a.m., adjacent to the Gem Theatre at 12852 Main Street.
Since last week, an electric lift, paint equipment, spotlight, and covered fencing concealing the art and the artist, have taken up a portion of the adjoining south side parking lot of the theatre. On his first day of painting, Marinovich posted a photo on his Facebook page showing the initial preparation of the theatre's red brick wall, with the comment, "Let the fun begin!"
Working during the evening hours, last evening, Marinovich invited a group of elementary school-aged youngsters to add their own creative touches to the mural. Armed with paint brushes and colorful paint, the group took to the canvas, adding their own artistic flairs from ground level, to the top of the mural via the electric lift. Over the next few days, Marinovich hopes to invite local high school art students to add their own artistic talents to the piece.
Marinovich explains that he begins his artwork with a concept or design in mind, but lets his creative instincts set the direction when he's "rocketed into the moment." According to Marinovich, the downtown mural will evoke images of Garden Grove's agricultural roots in today's modern community.
Marinovich was a starting quarterback at Mater Dei and Capistrano Valley High School, as well as USC. After leading the Trojans to a Rose Bowl victory in 1990, he was selected in the first round of the 1991 NFL draft by the LA Raiders.
Serious substance abuse issues plagued Marinovich throughout his NFL career, yet spurred a newfound direction towards art.
In addition to art and culture, Re:Imagine Garden Grove – A Downtown Open Streets Event will offer nearly three miles of car-free downtown streets filled with lively entertainment, international food, musical performances, and interactive displays and demonstrations for the entire family. The free event is organized by Community Arts Resources (CARS), famous for their CicLAvia event in downtown Los Angeles.
For details on Re:Imagine Garden Grove – A Downtown Open Streets Event, visit http://www.ggopenstreets.com or the City's website at http://www.ci.garden-grove.ca.us. To view Todd Marinovich's art gallery, visit his website at http://www.toddmarinovich.com.