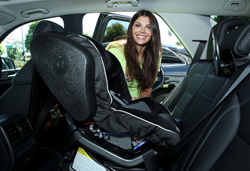 Los Angeles, CA (PRWEB) September 25, 2014
Safe Ride 4 Kids Announces Participation in celebrity mom Ali Landry's Red CARpet Safety Awareness Event on September 28th, 2014 in Los Angeles.
The Red CARpet Safety Awareness Event is a safety event for celebrities, moms, expectant parents and families and will provide fun-filled opportunities to learn about car seat safety, nursery safety, travel safety, activity safety, home safety, and baby- wear safety.
At the event celebrities and families will discover many of the best safety products for maternity, baby and toddler from national and local companies, along with offering an inspiring menu of lectures, seminars and demonstrations from renowned experts in the world of family and parenting.
Honoring the spirit of a show that's all about family, the Red CARpet Safety Awareness Event will be helpful and informational, as well as fun, accessible and welcoming to children. Taking advantage of Skirball's expansive, but comfortable 10K sq feet of space, the Red CARpet Safety Awareness Event will offer the kind of cheery and relaxed vibe that new, expectant, and experienced parents will appreciate, while having the flexibility to give large and small exhibitors alike the space they need to add to the magic of the event.
Parents and parents to be will be introduced to many interactive safety exhibits such as:

Car seat safety demonstrations on Diono Pacifica's, Radians and Rainiers as well as Evenflo's Protection Series and Safe Ride 4 Kid's RideSafer Travel Vest.
A full nursery set up from Summer Infant. Learn the ins and outs of a safe nursery set up, and even get inspired for a nursery with some cute designs.
A small "track" for little ones to learn about road safety in our Step2 F-150 Cars.
How to wear a baby right. Come chat with Baby Bjorn and other baby wearing experts to learn about how Kissing baby can help.
See how easy and fun it can be to travel with baby in our on the go zone with Nuna whether it's just to the store, or on a road trip.
Home is Where the Heart Is….and where safety is a must. Attendees will have the opportunity to demonstrate many products to help make the home safer with Safety 1st and the plethora of baby care items from grooming to simple home safety.
Amazing and fun activities for parents and little ones with face painting, balloon animals, arts and crafts, indoor play, and some carnival games.
All general attendees with receive a gift bag with $50 worth of items from Babyganics, Vaseline Intensive Care, Hylands, Earth's Best, Ella's Kitchen and more.
Each attendee will have a chance to win numerous giveaway prizes from car seats, strollers, baby monitors, safety items and a set of $2500 diamond earrings. One lucky family will go home with an entire nursery.
Safe Ride 4 Kids is giving away a RideSafer Travel Vest and a Tummy Shield at the event. The Tummy Shield is a crash tested and approved safety device designed to protect pregnant mothers and unborn babies in the unfortunate event of a car crash. Safe Ride 4 Kids will have a Tummy Shield in a sponsor vehicle at the event for celebrity mom's to try out.
The RideSafer Travel Vest is a Top Rated, crashed tested and approved alternative to traditional car seats and designed for safety first, travel convenience and child comfort. Safe Ride 4 Kids will have several versions of the RideSafer Travel Vest on display at the Red CARpet event.
Purchase Tickets to Ali Landry's RedCARpet Safety Event online