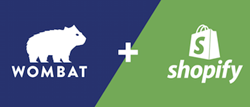 Bethesda, MD (PRWEB) September 24, 2014
Spree Commerce has released its upgraded, officially supported Shopify integration for Wombat. Spree Commerce Certified Partner and ecommerce website design and development agency, NuRelm, built the upgraded connection to Shopify stores for Spree's automated ecommerce integration platform, Wombat.
Wombat gives its users the most diverse and effective arsenal of integrations in the industry. NuRelm has extensive experience building integrations for Shopify stores and delivering exceptional, user-friendly websites for businesses of all sizes. For over 15 years, NuRelm has mastered and delivered web projects for small, as well as large, clients like Heinz and Mylan.
By using Wombat's newly upgraded integration, Shopify storefront users can now connect to Wombat in just five minutes and have easy access to all of the convenient, out-of-the-box ecommerce integrations that Wombat offers.
"The Shopify platform is a great solution that makes it easy to launch your own online storefront," said Sam Shaaban, CEO and co-founder of NuRelm. "However, as a business grows, so does the complexity of its operations. Wombat connects store owners to all of their mission-critical services and scales according to their business needs; eliminating complexity and preventing problems."
For a complete rundown on how to easily connect with Shopify, join Spree Commerce on Wednesday, October 1st at 2PM EST for a co-hosted Shopify integration webinar. The webinar will be led by Shaaban, who will provide a detailed tour of how to quickly and easily integrate your Shopify storefront with Wombat.
Get access to the Shopify platform for Wombat by signing up for a two-week integration platform trial. For technical documentation on Wombat's integration with Shopify, visit the Wombat knowledge base.
About NuRelm
NuRelm has been building web applications since 1999. We help our clients build smart online commerce systems, mobile apps, content-managed websites and custom applications that integrate with the rest of their business. Our clients and employees are our partners, and continuous learning is our passion.
About Spree Commerce
Spree Commerce offers one of the most popular ecommerce platforms in the world. The modular platform allows for easy customization so developers and store owners can configure Spree for their specific needs. With an active and growing community, Spree is now one of the top open source technology projects in the world.
Spree Commerce is also the creator of Wombat, an integration platform that scales ecommerce businesses of all sizes. Wombat works with all leading storefront platforms to integrate mission critical services in just minutes, not weeks or months. With Wombat, you'll never worry about losing an order or connecting your ERP, POS system or fulfillment provider. Connect any store to any service, no custom code required. To learn more, visit https://wombat.co and http://spreecommerce.com.