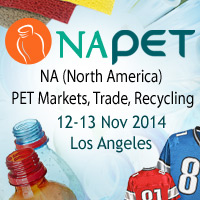 NAPET will discuss 'Competitiveness of the North America markets and opportunities for imported resin and preforms', specifically the market for Virgin PET, r-PET trends, impact of China's Green Fence policy and much more.
Los Angeles, USA (PRWEB) September 30, 2014
The November summit is all geared to bring together key authorities from PET world like David Swift, Managing Director, PCI (PET Packaging, Resin & Recycling) Ltd slated to answer the question – Will 2015 be a crisis year for PET producers? and Dale Behm, Managing Director, Pacific Rim PET who is providing key insights on 'History of PET and current North America Market for Virgin PET'.
The 1.5 day summit also explores the rPET market trends in North America via sessions such as: 'North America rPET Markets' by Moore Recycling Associates, 'Energy Efficient PET recycling systems with high quality food grade rPET' by Verdeco Recycling Inc., 'From rPET flake to Thermoform packaging and Clamshells' by Royal Inter Pack Co., Ltd. and 'Foodgrade rPET production, applications, and usage' by Starlinger & Co. GmbH.
Meanwhile Shaw Industries Inc and Renew Merchandise will address rPET applications – 'Growing Application of RPET in Carpet and Non-Woven Industry' and 'Overall Market Conditions for Apparel & other products made from RPET' respectively.
Other key sessions include:

Processing undried PET into high quality end products with the innovative MRS extrusion technology – Gneuss Inc
Bio-Paraxylene from Cellulosic Waste – Micromidas Inc.
Dumping Duties, Countervailing Duties and GSP – How Do They Affect Imports of PET. What is Next? – Economic Consulting Services Llc
Strategic Sourcing of packaging raw materials, resin and bottle procurement for converters – Outrigger Strategy Llc
Innovative and Sustainable PET Packaging Solutions: Thinking Beyond the Bottle – Amcor Rigid Plastics
GEPACK | A True Alternative to Glass – GEPACK
Building our PET Business from Strength to Strength as a high quality producer: Capacity expansions in Canada and US – Selenis Canada Inc
Role of China in the global PET trade and US Market – GSI America
To value add attendees' experience an Optional Site Visit to Verdeco Recycling Facility has been arranged on 13 November.
Visit event website or contact Ms. Hafizah at +65 6346 9218 for more details.