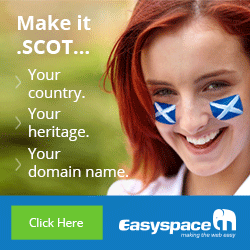 This is a fantastic day for Scotland online.
Glasgow, United Kingdom (PRWEB UK) 23 September 2014
Scotland's new domain Dot Scot is now available to everyone wherever they are based from Glasgow-based domain name registrar Easyspace.
The .scot domain, which will give Scottish businesses and individuals a unique Internet identity, went into General Availability at 2pm today (23 September 2014). The Scottish Government has already suggested that it will adopt gov.scot as its primary web address in the coming months.
Easyspace is an ICANN accredited domain name provider. It has created a page on its website with information about how to register a .scot domain http://www.easyspace.com/domain-names/scot
Sarah Haran, managing director of Easyspace, said: "As a domain name and hosting company with many Scottish customers we have noticed the huge engagement of the online community with the recent referendum debate. It shows there is a definite clamour for a new national identity online and having a .scot web or email address can be part of that."
Gavin McCutcheon, director of the DotScot Registry, said: "This is a fantastic day for Scotland online. I am confident that the .scot domain name will prove to be a real asset to the people of Scotland and to the worldwide family of Scots."
Easyspace is part of leading cloud company iomart which provides compute, storage, security and connectivity to thousands of businesses from data centres at eight locations in the UK and a network of international Points of Presence.