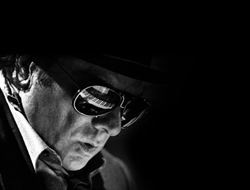 Who wouldn't want the chance to see Ireland's native son, Van Morrison, perform live in Ireland in an intimate concert setting.
Rockville Centre, New York (PRWEB) September 24, 2014
Van Morrison is at it again — appearing this time in Belfast — and GreatValueVacations has the package for fans to see Ireland's native son performing there live this October.
Van Morrison fans will enjoy this unique opportunity to see one of Northern Ireland's most prolific musical talents perform "up close and personal" in his hometown. The concert setting of the Europa Hotel is very intimate and has an ambiance of the jazz clubs of yesteryear.
The Van Morrison: Live in Belfast! package includes a champagne reception and sumptuous four-course dinner the night of the concert at the Europa Hotel — where participants will also be staying. In addition to the concert — which is reason enough to travel to Ireland — vacationers will also have time to explore Ireland's vibrant northern and southern capitals, Belfast and Dublin, with Hop on/Hop off passes as well as Irish Rail transportation between the cities.
The 6-night Van Morrison: Live in Belfast! vacation includes:

Round-trip economy class airfare to Dublin (DUB)
Round-trip rail tickets from Dublin to Belfast (standard class)
3 nights in Belfast at the Europa Hotel, in an Executive room
Ticket to see Van Morrison perform at the Europa Hotel on October 26th
Pre-concert champagne reception and four-course dinner at the Europa Hotel
Belfast City Sightseeing 48-hour Hop-on/Hop-off Bus Tour
3 nights in Dublin at the Maldron Hotel Cardiff Lane or North Star Hotel
Dublin City Sightseeing 48-hour Hop-on/Hop-off Bus Tour
Full Irish breakfast daily
This package is priced from $2,199 from New York, $2,249 from Boston, $2,299 from Chicago, $2,499 from Los Angeles, and $2,299 from Orlando, based on travel on a select date in October, 2014. Prices are per person, double occupancy, based on 7-day advance purchase.
Rates include round-trip economy class airfare including carrier and government-imposed taxes and fees including the September 11th Security Fee of $5.60 per enplanement originating at a U.S. airport. Fluctuations in exchange rates may affect some taxes or fees.
Click the link for additional information on GreatValueVacations' Van Morrison: Live in Belfast! vacation package or call 800-896-4600.
About GreatValueVacations
GreatValueVacations is changing the way consumers travel by creating expertly designed, high-quality, air-inclusive vacations to compelling destinations at affordable prices. With so many online resources to find air, hotels, transportation, and more, consumers can spend many hours doing research trying to put it all together. GreatValueVacations takes the guesswork out of planning the perfect vacation by doing all of the legwork and packaging upscale travel products that have been vetted by destination experts. GreatValueVacations also offers advice and recommendations on what to see and do in each locale, and provides customer support every step of the way. Additionally, GreatValueVacations' state-of-the-art technology offers the ability to book complicated vacations in just a few clicks.
For additional information, visit http://www.GreatValueVacations.com or call 800-896-4600.