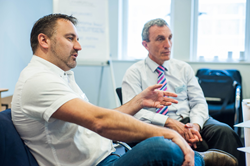 You will come away from an ella Forum energised with valuable insights
London (PRWEB UK) 24 September 2014
In response to the rapid growth of Social Enterprises -- ella Forums, the leadership development programme designed to inspire leaders to grow their organisations -- is launching a new group in London focussed exclusively upon the needs of Social Enterprises.
Leaders from Social enterprises in London are invited to a free, half day taster session on October 15th at The Directory of Social Change, 24 Stephenson Way, London NW1 2DP from 9am - 2pm.
The taster session will give guests an idea of what an ella Forum offers and how it can help leaders grow their organisations.
They will hear Damon Segal speak about The World of Digital Marketing. They will participate in a peer to peer problem resolution clinic. And they will enjoy a complimentary lunch. Any leader of a Social Enterprise who would like to come along should contact Phil Thompson at phil(at)ella-forums(dot)org for more information.
"I went along to an ordinary meeting the first time and I really enjoyed it. There was a session where we all talk about our issues. It was refreshing to talk to real people about real issues and get advice." says Simon Ross, CEO of Population Matters and a member of a London ella Forums Group.
Chair of the new Social Enterprise Group, Ben Freedman, adds: "You will come away from an ella Forum energised with valuable insights, but more importantly, with an idea of what ella Forums can offer you in terms of support and connections. We encourage Social Enterprise leaders in the London area to take advantage of our taster session. They'll be surprised how valuable it will be for their own development and that of their organisation."
Even the most highly motivated CEO welcomes a break from the day to day pressures of running a business to reflect, share issues in a safe environment with colleagues and develop their ideas. At ella Forums, members come together for monthly sessions where they hear the latest thinking from guest speakers, share best practice and receive coaching from experts -- all done via the tried and tested personal development methods that have been used by CEOs and Senior Managers in the commercial sector for years.
To book a place at ella Forums Social Enterprise Taster Session please contact phil(at)ella-forums(dot)org.
Date: Wednesday 15th October 2014
Location: The Directory of Social Change, 24 Stephenson Way, London NW1 2DP
Time: 9:00am – 2pm
About ella Forums:
ella Forums launched in 2013 and have Groups across the UK. Ella Forums CIC. are a Community Interest Company based in London. You can find out more about ella Forums at http://www.ella-forums.org