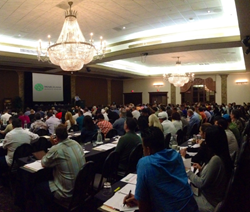 Those that get in on the medical marijuana industry's ground floor by preparing now, will be the ones who make the most money.
(PRWEB) September 24, 2014
Hundreds of eager entrepreneurs from all different types of industries will attend Medical Marijuana Business Seminars on Saturday (Sept. 27) at the Hilton by Palm Beach Airport in West Palm Beach, and Sunday (Sept. 28) in Miami at the DoubleTree Hotel by the Miami Airport. Additionally, Marijuana Business Seminars will be in Jacksonville (Oct. 18), Orlando (Oct. 19), and Ft. Lauderdale (Nov. 1).
This new billion dollar industry will bring a wide variety of business opportunities to Florida. MarijuanaBusinessSeminars.com is one of the country's leaders in providing Medical Marijuana business education. Its parent company Kush Expo, is the largest Medical Marijuana expo in the country.
The company's success is driven by its commitment and responsibility to capture new opportunities for profitable growth. The company has helped hundreds of businesses nationwide become successful.
The panel of experts that will be presenting at the seminar includes lawyers, doctors, dispensary owners, growers and successful medical marijuana companies. This new industry in Florida will allow aspiring Medical Marijuana entrepreneurs to help people and make money at the same time. It's an emerging market that is about to explode in Florida. Florida lawmakers are already drafting the regulatory framework in preparation for amendment 2 passing on the November ballot.
The State of Florida has said that 1,789 Medical Marijuana Treatment Centers (Dispensaries) and 250,351 caregivers will be needed to service the projected 417,252 medical marijuana patients. This is not the type of industry where you can afford to just sit back, see how things unfold and learn on the job. Just like in the other states that have legalized medical marijuana, those that get in on the ground floor by preparing now, will be the ones who make the most money.
The last seminar the company put on sold out! That's because Marijuana Business Seminars delivers the most impressive and fruitful opportunity for people who want to get into this emerging industry, which is currently being hailed as "The Green Rush."
For more information on the medical marijuana business seminar go to: