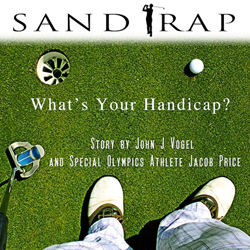 "Profound change happens in all of us when we cross paths with someone who touches our heart and makes a difference in our lives and that is the deeply powerful theme of this movie," said John J. Vogel, Director/Producer for Sand Trap.
LOS ANGELES, California (PRWEB) September 24, 2014
Independent filmmaker John J. Vogel is turning to the Internet, via an Indiegogo campaign launching today, to raise funds for his latest feature film project, Sand Trap. Sand Trap is a feature length sports dramedy with a story that focuses on people's abilities, the power of mutual respect and the gift of friendship. Jacob Price, a 22-time Special Olympics Skiing Champion co-created the story with Director/Producer John J. Vogel and is also slated to co-star in the film. This campaign supports their vision and bravery in bringing this story to the screen. This is one of the few movies, if not the only movie, to be co-created by and co-star a person with special needs. This film will proudly display the inner strength of not only Jacob Price but also those of his fellow actors with disabilities that will be cast. Sand Trap is told with the perspective that people with special needs are able and capable when they are empowered.
To learn more about the film, readers can visit the Indiegogo project pitch page here: http://igg.me/at/sandtrap
"Profound change happens in all of us when we cross paths with someone who touches our heart and makes a difference in our lives and that is the deeply powerful theme of this movie," said John J. Vogel, Director/Producer for Sand Trap. "This story that Jacob and I created together is going to make an amazing sports movie for anyone that enjoys films like Rudy, or I am Sam. Traditional Hollywood studios are so risk averse today that the chances this film could get made traditionally are very slim given the strong special needs themes we have in it. Fortunately we have amazing alternatives for funding like Indiegogo to make this a reality."
Sand Trap is a movie about Professional Golfer, Kenny Monahue, who was recently suspended from The Tour for fighting both on and off the course at a high profile golf event. While waiting to hear if he will be reinstated to the world of professional golf, he begrudgingly takes a grounds crew job at Presdale Country Club where he is paired with Eric Beemer, a man with special needs. Eric, is somewhat of a golf savant when it comes to tending the course and displays other abilities surrounding the game of golf.
Eric's spirit and unfiltered honesty resonate deeply with Kenny making him realize how short sighted he has been and how he has taken his athletic talents for granted. Because of Eric, Kenny starts to embrace who he is, begins to change his destructive behaviors, and regains hope of being able to play professionally, once again. As their friendship develops, Kenny learns a new appreciation for the game of golf as he sets out to rebuild his life from the ground up.
The $500K Vogel hopes to raise from this campaign should see the process of pre-production through filming. If the film is successfully funded, Vogel expects to deliver the final cut in summer 2015.
A portion of the film's proceeds will be donated to the Special Olympics in support of an organization that has done so much to empower Jacob as well as millions of other athletes around the world.
Become a fan of Sand Trap on Facebook at Sand Trap, The Movie and follow us on Twitter® via @sandtrapfilm
About John J. Vogel - Co-Creator, Writer, Director, Producer – John J. Vogel has 20 years in the entertainment industry as a producer, director and actor. John's dedication to people with special needs began over 10 years ago after being invited to take part in the Celebrity Winterfest benefiting Special Olympics of Northern California/Nevada. He's been volunteering his time ever since and has raised over $350,000 in services and donations for the organization
About Jacob Price - Co-Creator, Co-Star - Many think growing up with intellectual disabilities means living in a world not afforded to those without special needs. This is not true in the case of Jacob Price. The only son of a single mom, Jacob has turned his disabilities into commanding abilities. After two decades of competing in Special Olympics, Jacob has won countless medals as a skier. But more than that, Jacob's attitude and dedication to bettering himself has grown. After entering a mentoring relationship with John J Vogel, Jacob and John co-created the feature film story Sand Trap which highlights the importance of people with special needs. Jacob's goal in life is to spread the word that people with special needs are as human as everyone else.
PRESS CONTACT:
Michelle Allison
mallison@thesandtrapmovie.com
Links and other information:
WEBSITE: http://www.thesandtrapmovie.com
FACEBOOK: https://www.facebook.com/pages/Sand-Trap-The-Movie/1431007007112907
TWITTER: http://www.twitter.com/Sandtrapfilm
Sand Trap Indiegogo Campaign: http://igg.me/at/sandtrap