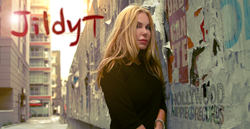 Hollywood, CA (PRWEB) September 24, 2014
The Love Love Love Project in association with Hollywood Hippie Records and Artist/Producer JildyT are beginning their new "Contest/Quest" for a new Indie artist with an original song about love. The winning song will be recorded at Hollywood Hippie Recording Studio and will be featured on the "Love Love Love EP 4 charity." A music video will be shot and distributed by Hollywood Hippie Records and SummerLove Entertainment. The winning artist will also be promoted by JildyT and Hollywood Hippie Records via social media, print, video, etc.
Please submit your YouTube and/or Soundcloud links to info(at)hollywoodhippierecords(dot)com
JildyT, a pop rock vocalist and writer of music that makes a difference, has become a front runner in the fight against Domestic Violence and many other global issues affecting the well being of women and children. She continues to write, record, and perform her music to bring awareness to these important issues.
She also takes the time while traveling to visit many orphanages and homeless shelters to contribute what she can. JildyT hopes to provide not only food and shelter to the less fortunate but also a sense of well being and the possibility of brighter future. You can go to her Reverbnation to download her song to help.
For more information please visit hollywoodhippierecords.com and Jildyt.com