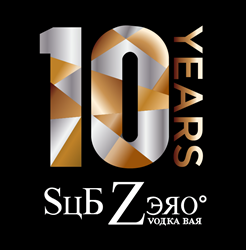 We are looking forward to the chance to thank St. Louis for helping us succeed, and make it to the ten year mark. - Derek Gamlin
St. Louis (PRWEB) September 24, 2014
In 2004 Sub Zero Vodka Bar opened its doors with St. Louis' first ice bar, fresh sushi and new to the area vodkas. Since then, it has more than doubled in size and grown to have the largest selection of vodkas in the country, with more than 500 available every day.
To celebrate this milestone there will be two days of celebrations starting with ten hours of giveaways on Sunday, Sept. 28 at 2 p.m. at Sub Zero Vodka Bar, 308 N. Euclid Ave., St. Louis, MO 63108.
"We are looking forward to the chance to thank St. Louis for helping us succeed, and make it to the ten year mark," says Derek Gamlin, Gamlin Restaurant Group Proprietor. It is estimated that less than 30 percent of restaurants reach the ten-year milestone.
Sunday's celebration will include complimentary ice bar shots along with hourly vodka specials and giveaways. Every hour there will be a $6 vodka special, and a raffle with prizes including a GoPro Camera from New Amsterdam Vodka, a Phone Booth Bar and Custom Stilettos from London Vodka, a Mountain Bike from Absolut and a Grey Goose Vodka golf set that includes a bag and putter.
The tenth anniversary celebration will continue on Monday evening, Sept. 29, with an invitation-only VIP Celebration at 7 p.m., where a bottle of one of the world's rarest vodkas, Stoli Elit Himalayan 2.0 Edition will be opened. Ten shots are the vodka available for $300 each, with proceeds benefiting the American Red Cross. Sub Zero Vodka Bar will close to the public at 2 p.m. on Monday to prepare for the celebration. Media passes are available for the event; contact Jennifer Volk at Jennifer@creative-entourage.com for information.
Sub Zero Vodka Bar was opened by brothers Derek and Lucas Gamlin and their father Joe in 2004. In 2007 they more than doubled the restaurant's footprint, and its menu when it expanded to a 6,000 square-foot space and began offering gourmet burgers. It has also established Sub Zero Vodka Bar Clubs at the Edward Jones Dome and Scottrade Center.
Additional images available: http://gamlinrg.smugmug.com/SZVB/Sub-Zero-Vodka-Bar-1/
###
Selection, fresh flavors, the hottest spots for dining and drinking. These are what diners can expect at a Gamlin Restaurant Group restaurant. Founded by brothers Derek and Lucas Gamlin, the Gamlin Restaurant Group creates original bar and restaurant concepts that bring cutting-edge ideas to the St. Louis dining scene. What started with the largest vodka selection in the country, served alongside fresh sushi and gourmet burgers at Sub Zero Vodka Bar, 308 N. Euclid Ave., St. Louis, MO 63108, has grown into Gamlin Restaurant Group, which includes Gamlin Whiskey House, at 236 N. Euclid, St. Louis, MO 63108, offering more than 250 whiskeys, steaks and a twist on traditional homemade fare, and Taha'a Twisted Tiki, St. Louis' first tiki bar at 4199 Manchester Ave.., St. Louis, MO 63143.