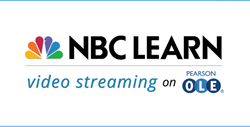 New York, NY (PRWEB) September 25, 2014
Sept. 25, 2014 — Pearson, the world's leading learning company, today announced a partnership with NBC Learn, the educational arm of NBCUniversal News Group, that will provide students and teachers exclusive access to more than 17,000 premium education videos. NBC Learn's vast video library, including original content developed exclusively for the partnership, is now available through Pearson's Realize, a next generation learning management system, and its Online Learning Exchange (OLE) platform, a searchable K-12 digital library of standards-based learning resources.
One of the largest news archives in the world, dating back to the 1920s, NBC Learn's collections are updated with current events daily, featuring stories from such celebrated programs as "NBC Nightly News," "TODAY," "Meet the Press" and "Dateline NBC." NBC Learn is staffed by veteran NBC News producers, who have created scores of original stories and Town Hall events around the country, in collaboration with the National Science Foundation, the Kellogg Foundation and others. The award-winning collections include Chemistry Now, Changing Planet, Science of NFL Football, Science of the Winter Olympic Games and Finishing the Dream.
"When students can see events in the making -- whether current or historical -- it puts them right in the center of the learning experience, allowing them to gain a deeper understanding of issues, implications and context," said Pearson's Managing Director for Learning Services Bethlam Forsa. "Through a shared commitment to ensuring that students and teachers have access to powerful and engaging learning resources, Pearson and NBC have forged this partnership that will provide access to a wealth of historical material as well as continue to provide extremely-timely, standards-based learning resources for K-12 students."
"We're proud to team with Pearson to bring decades of history alive for students by tapping into our rich archive of news reported by our world-class journalists," said Soraya Gage, vice president and general manager, NBC Learn. "NBC Learn is committed to growing our brand in the education market through innovative partnerships like this one."
NBC Learn's original videos and archival news stories are generally brief — fewer than six minutes in length — allowing teachers to engage students in a short timeframe. The videos are full stories, with a beginning, middle and end, reported by some of the most famous journalists in broadcast history, including John Chancellor, Tom Brokaw, Tim Russert and Brian Williams.
Hannan High School in Louisiana kicked off the 2014-2015 school year with a subscription to NBC Learn. Commenting on the value of primary source materials, Tim Anger, a civics teacher, said, "The NBC Learn video collection puts history-in-the-making in front of our students. Current events, such as the crisis in Ukraine or the American economic recovery, come alive when they view them through the lens of top newscasters and newsmakers, helping them gain a deeper understanding of the impact that these stories have on them both individually and on our world."
About NBC Learn
NBC Learn is the educational arm of NBCUniversal News Group, dedicated to providing resources for students, teachers, and lifelong learners. The online resources NBC Learn has created for the education community leverages nearly 80 years of historic news coverage, documentary materials, and current news broadcasts. NBC Learn K-12 and NBC Learn Higher Education gives students and teachers access to thousands of video clips from the NBC News archives, including great historic moments--from the Great Depression to the Space Race to the latest current events. NBC Learn also offers primary source materials, lesson plans and classroom planning resources, and additional text and image resources from our content partners.
About Pearson
Pearson is the world's leading learning company, with 40,000 employees in more than 80 countries working to help people of all ages to make measurable progress in their lives through learning. For more information about Pearson, visit http://www.pearson.com.
Media Contact: Brandon Pinette, brandon.pinette@pearson.com, or (800) 745-8489