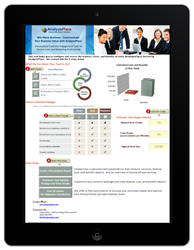 "Our clients know they have to prove their value to win business. AnalysisPlace lets them do that," said Andrew Hall, CEO of AnalysisPlace. "By quantifying benefits for individual prospects, they build trust and create compelling reasons to buy."
Pittsburgh, Pa (PRWEB) September 26, 2014
AnalysisPlace has launched a new B2B sales platform that lets sellers establish a clear ROI for their products and services. The platform quantifies financial benefits for individual prospects, and then automatically generates personalized sales presentations and other collaterals that communicate this value. Lead clients have already reported impressive results, including a 6-month reduction in sales times and significantly increased close rates.
"Our clients know they have to prove their value to win business. AnalysisPlace lets them do that," said Andrew Hall, CEO of AnalysisPlace. "By quantifying benefits for individual prospects, they build trust and create compelling reasons to buy."
The platform captures business benefits for a typical customer using accurate models. Account managers personalize these models for individual prospects, entering data such as employee numbers, existing business infrastructure, and product deployment options. The platform then calculates key financial information, including ROI and TCO, as well as product configuration and pricing.
The models can include hundreds of parameters, but also make intelligent assumptions when minimal data is entered. This means that they can be used at multiple points in the sales cycle, including for early qualification, value-based storytelling and detailed presales financial studies.
Automated document creation is another key capability. Sellers can instantly generate PowerPoint presentations and Word documents that include customer-specific financial and organizational data, graphs, branding and other elements. This simplifies the creation of personalized sales presentations, financial and technical whitepapers, quotations and other sales collateral.
The new platform provides both cloud-based and Excel-based tools. Marketers, for instance, can use cloud-based tools to generate website leads, offering prospects self-assessments and downloadable cost/benefit reports. At the same time, presales can conduct detailed analyses at customer sites using portable Excel-based tools.
About AnalysisPlace
AnalysisPlace helps corporations and entrepreneurs communicate their value proposition clearly and effectively to their business clients. Our customer engagement tools allow them to deliver personalized information to prospects, including customer-specific presentations and sales collateral, individualized ROI and total cost of ownership analyses, optimized solution designs and winning proposals.
To Learn more, try AnalysisPlace, request a free platform demonstration, or visit http://www.analysisplace.com.