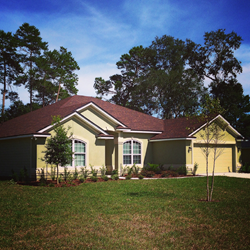 St. Johns County experienced a balanced and "neutral market" in Q2 2014. -- Chad Neumann, Broker
St. Augustine, FL (PRWEB) September 26, 2014
St. Johns County Florida is experiencing what's called a "neutral" real estate market. The new data released in the county's Market Update Report at the end of the second quarter of 2014 confirms this. Neumann Realty Corp. is now sharing these statistics. A new post outlining the findings can now be found on the JaxHousesThatRock.com web site.
The new post brings exciting news to St. Johns County residents, both those who already live there and those looking to relocate to St. Johns County. More sales were reported this year than during the same quarter in 2013. Median sales prices have also increased year over year.
Neumann Realty Corp. discusses the benefits of a neutral market like St. Johns County has right now. In short, it's neither a buyer or seller market. But there is an equal supply of both. Also explained are real estate topics like inventory supply and lis pendens filings and how those things affect the local real estate market.
The new post outlines and explains the real estate statistics specific to St. Johns County, collected and reported quarterly by Metro Market Trends, Inc. and Northeast Florida Multiple Listing Service, Inc.
Neumann Realty Corp. offers a download of the full report for all Jacksonville Real Estate markets on the post at http://dev384.rewtemplates.com/blog/st-johns-county-real-estate-market-update-q2-2014.html.
About Neumann Realty Corp.
Neumann Realty Corp. is a privately owned FL company that has been selling Jacksonville real estate since 2009. Neumann Realty Corp. specializes in Jacksonville foreclosures and auction properties, Jacksonville Beach oceanfront condos, Jacksonville golf and country club homes, and new construction.