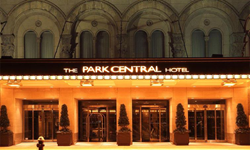 "Park Central is one of the most iconic properties in all of New York City," said Edward de Valle II, 3A/Worldwide Global CEO. "We're very excited to be able to represent Park Central on an international scale."
Miami, Florida (PRWEB) September 25, 2014
An icon of the New York Skyline since the "The Roaring Twenties," Park Central Hotel has been a strategically located site frequented by some of the most influential people in history – from Jackie Gleason to the First Lady Eleanor Roosevelt. Today the unmistakable hotel has undergone extensive renovations that help capture the essence and beauty of New York, from the daunting skyscrapers to the world-renowned Central Park. The new updated design evokes visions of a bygone era that live today only in cinema and literature, while still establishing a modern feel.
Park Central Unveiled: Visually reinvented, Park Central boasts 761 guest rooms and suites that captivate guests with their astonishing interior design. From tufted fabric headboards to elegantly patterned custom carpets, each room is fitted to accentuate the splendor that the iconic hotel represents. Even the bathrooms are brought to life with white porcelain tiles resembling the pattern of a piano, paying homage to the nearby Carnegie Hall.
Location: Centrally located in Downtown Manhattan, Park Central is walking distance to some of the most revered New York Destinations. Just three blocks away, historically renowned Central Park awaits exploration of it's timeless paths and breathtaking sceneries. One of the most well-known and visited music halls of the 20th-21st centuries, Carnegie Hall, stands in its splendor just across the street. Other popular destinations such as Rockefeller Center, The Modern Museum of Art, the New York Theatre District and some of the best shopping in the world are just minutes away.
Exquisite Dining: The hotel boasts the innovative and convenient "grab-and-go" style eating at "Central Market," where guests can chose from flavorsome bites provided my local New York Vendors including North Fork Chips and New Yorks "Mr. Chocolate." For seated dinning, guest can make their way to Park Kitchen, where a mouth-watering American menu and freshly made cocktails are served in a elegant ambiance that would be suitable to entertain the likes of Frank Sinatra.
For press inquiries, please contact:
Bronson Soares
Senior Account Executive – 3A/Worldwide
bronson(at)3aworldwide(dot)com / 786.362.6500 x337