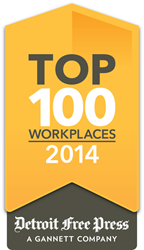 Being named a Top Workplace is a testament to our community involvement initiative and the culture we work so hard to nurture.
Troy, MI (PRWEB) September 25, 2014
Billhighway is thrilled to announce its first place ranking in the small business category on the Detroit Free Press Top Workplaces list for 2014! The list honors 100 local companies whose employees expressed workplace satisfaction in regards to pay, benefits, advancement opportunities, and flexibility. Billhighway will be recognized along with other well-known organizations like Quicken Loans, Plante Moran, Plex, and Hungry Howie's Pizza at an awards breakfast in November.
A great benefits package, a commitment to community service, strong core values and a powered by fun attitude are some of the hallmarks that make Billhighway a top workplace in metro Detroit. New hires enjoy four weeks paid vacation, charitable time off, flexible work from home options, and profit sharing including a high performer bonus. Team members can receive a $2,500 bonus for referrals, which along with promotions, accounts for 30% of position fulfillment.
Team members rave about how Billhighway celebrates individual achievements through its monthly "All Star" award, hand written notes and gifts from the CEO on yearly anniversaries, and larger rewards like gift cards and all-expense paid trips for five and ten-year veterans. All team members receive business cards that are customizable, are acknowledged with a press release upon hiring and can take advantage of the company's "family-friendly" atmosphere featuring a kid's playroom with flat screen TV, game system, DVD player, books, games, and art supplies.
"Candidates we interview frequently mention they want to align themselves with a company who is passionate about doing more good, and not just making a profit," said Brenda Gallick, Team Member Success Leader at Billhighway. "Being named a Top Workplace is a testament to our community involvement initiative and the culture we work so hard to nurture."
Billhighway representatives will join other Top Workplace winners at an awards breakfast on November 12th at the Shriners Silver Garden Event Center in Southfield, Michigan. Mark Fields, newly appointed CEO of Ford Motor Company, will be the keynote speaker at the ceremony, now in its seventh year.
About Billhighway (http://www.billhighway.co)
Billhighway, headquartered in Troy, Michigan, develops cloud-based automation software that makes nonprofit financial management easier. Since 1999, we've helped our clients free up internal resources and focus more time on mission by increasing revenue, cash flow and the bottom line. Through a robust, rules-based engine that integrates payment processing, banking and accounting with existing systems, Billhighway provides a transparent, holistic view of your organization's finances so you can work smarter, not harder. Billhighway is recognized for award-winning customer service and industry-leading data security.
(###)