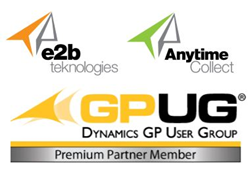 We're very excited to expand our relationship with the GP community as a Premium ISV Partner in GPUG and look forward to sharing the latest A/R management and cash flow best practices with users to help them better manage one of their largest assets
Chardon, Ohio (PRWEB) September 25, 2014
e2b teknologies, publishers of Anytime Collect accounts receivable management automation software for Microsoft Dynamics GP, announced today that it has joined the Dynamics GP User Group (GPUG) as a Premium ISV Partner and is exhibiting Anytime Collect at the upcoming GPUG Summit conference and trade show in St. Louis, Missouri.
GPUG is an independent group of Microsoft Dynamics GP users, partners, and industry experts, recognized by Microsoft as the official user group for Dynamics GP ERP software (formerly Microsoft Great Plains).
"The objectives of GPUG reflect our own ideals; to help businesses take advantage of the latest technologies to extract the most value possible from their ERP investment," said Lynne Henslee, President of e2b teknologies. "We're very excited to expand our relationship with the GP community as a Premium ISV Partner in GPUG and look forward to sharing the latest A/R management and cash flow best practices with users to help them better manage one of their largest assets and sources of working capital – their accounts receivable."
The Company is exhibiting Anytime Collect in Booth #1046 at the annual GPUG Summit conference and trade show in St. Louis from October 14-17, 2014. GPUG Summit is co-located with other Microsoft Dynamics ERP user group conferences including Microsoft Dynamics NAV, Microsoft Dynamics AX, and Microsoft Dynamics CRM.
"Our Premier Partner members are an integral part of the GPUG community. They bring innovative solutions, strategies and expertise to the group that is of immense value to our members," said Kim Peterson, GPUG Director. "We're happy to welcome e2b teknologies and the Anytime Collect solution and we look forward to their participation in and contributions to GPUG."
Anytime Collect accounts receivable management software is a Microsoft Dynamics ISV solution that automates accounts receivable and collections management to help companies get paid faster. It integrates with Microsoft Dynamics GP supporting multiple companies from a single account, allowing users to centralize accounts receivable collections activities in one system. Users can also view a cash forecast based on historical customer payments, send email, automatically archive customer email responses, manage disputes, and enable customers to view documents or pay invoices online via credit card or ACH. Additional features help companies reduce credit risk by enabling them to perform periodic credit reviews, manage credit applications, and monitor customer credit scores. Learn more here.
About e2b teknologies
e2b teknologies is a Microsoft Managed Partner and publishers of Anytime Collect, a leading cloud-based accounts receivables management system integrated to leading ERP accounting systems including Intuit QuickBooks, Epicor, Sage ERP, Microsoft Dynamics, and others. Anytime Collect is designed specifically for businesses selling to other businesses on credit terms as opposed to other software designed for credit agencies or business to consumer credit and collections.
ABOUT GPUG
The Dynamics GP User Group (GPUG) is a user-driven, independent organization powered by Dynamic Communities, Inc. GPUG's leaders strive to help individuals and company members maximize the value they receive from Microsoft Dynamics GP. Members learn, network, and share expertise through a number of educational events, webinars, training courses, virtual collaborative meetings, regional networking opportunities and a vibrant online community.