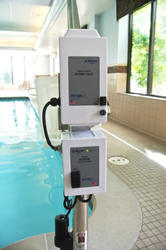 Missoula, MT (PRWEB) September 25, 2014
Spectrum Aquatics, a leading manufacturer of commercial pool products, announces the release of a wired battery and receiver unit for use with its battery powered ADA pool lifts. These enhancements include a conversion from the current "tabbed" battery contact to a fully enclosed wired connection in order to limit exposed parts.
"The industry standard for these types of control systems has been to use contacts between the battery and receiver that are exposed to the environment. This works well with the control systems originally designed for hospital bed motation, but Spectrum has opted to take things one step further and utilize a connector commonly used in watertight automotive applications. In doing so, we have a product upgrade that promotes system durability and longevity in pool environments," stated Ben Tiffin, Director of Engineering.
The new design reflects a complete update to both the battery and receiver units. For these reasons, the system will not be back-compatible with previous battery or receiver models. Customers wishing to take advantage of the upgrade are encouraged to update the entire control system. A supply of tabbed units is available for customers unable to upgrade.
For optimal battery performance, Spectrum also recommends that all battery units, regardless of the version, be placed on the charger daily when the pool facility is not in use to maintain the battery charge levels.
All customers are reminded that technical support for ADA pool lifts is available 7 days a week from 8:00AM – 5:00PM Mountain Time. Questions on parts, troubleshooting, product and warranty inquiries can be directed to the Technical Service Team by calling 1-800-791-8056 (Direct: 1-406-493-8131), by emailing techsupport(at)spectrumproducts(dot)com, or by submitting questions through the Contact page at http://www.spectrumproducts.com.
Pool lift owners are also encouraged to register their pool lift with Customer Service to activate warranty coverage. They can do so by submitting contact information and pool lift serial number here: http://bit.ly/1l8KqKk.
About Spectrum Aquatics®
Spectrum Aquatics is a leader in the aquatics industry and has been committed to the development of high-quality competitive swim and commercial aquatics equipment for more than 40 years. The company is headquartered in Missoula, MT and is a division of PlayCore. More information is available about Spectrum Aquatics at http://www.spectrumproducts.com.
About PlayCore®
PlayCore helps build stronger communities around the world by advancing play through research, programs, and partnerships. The company infuses this learning into their complete family of brands. PlayCore combines best in class planning and education programs with the most comprehensive array of recreation products available to create solutions that match the unique needs of each community we serve. More information is available about PlayCore at http://www.playcore.com.
###