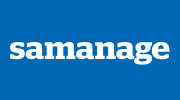 Cary, NC (PRWEB) September 25, 2014
Samanage, provider of the only multi-tenant, unified service desk and asset management cloud solution on the market, announced today a number of new product enhancements to its solution including real time notifications, more collaboration with multiple approvers, and more.
The latest updates continue to allow for a better service desk experience, better collaboration among IT team members and a higher level of end user customer service provided through Samanage.
Since May 2014, Samanage has delivered more than 330 deploys to production that were instantly available for the entire customer base. Samanage's agile business model and true-cloud platform uniquely positions them to deploy daily updates and quickly respond to customer requests via their active and engaged online community of users.
"The development team is very active in the community forum and respond quickly to suggestions," said Boyd Tracy, Manager of Business Technology at eSource. I have been very impressed with the level of dialog between the developers and the users regarding improvements to the tool."
Some of the key highlights in the last three months include:
Real-time notification – in-app real-time notifications of service related events, just like Google or Linkedin, helps save time in resolving service requests and improve users productivity.
Multiple Approvers – better control of Change Advisory Board (CAB) approvals in Change Management module.
Custom Forms and Fields – capture specific information for each category and sub-category submitted via the self-service portal helps narrow down data collection.
Recurring catalog requests – easily schedule recurring service requests and business workflows across the organization.
Reorder service catalog variables – new drag and drop usability makes it easier to create and edit service catalog items.
Samanage CEO, Doron Gordon, says that the company has always been built around the idea of agile development, and outstanding customer service.
"Our philosophy has always been to build beautiful software that people love to use," said Gordon. "As a multi-tenant, true-cloud solution, all of our customers run on a single instance of the software which allows us to make product updates quickly and seamlessly with no downtime for upgrades. Samanage is unique in the marketplace in that it does not have versions or a lengthy release cycle. Unlike most IT service management platforms, the product is reviewed daily and any enhancements that are going to make life better for customers are made quickly."