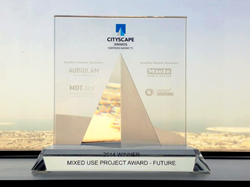 We're honored to have our project recognized at this year's Cityscape Awards
Dubai, United Arab Emirates (PRWEB) September 25, 2014
Celebrating excellence in architecture and real estate, the 2014 Cityscape Awards for Emerging Markets named California international firm, 5+design's Wuhan Tiandi Park Place, Wuhan Tiandi Park Place project with Shui On Land has just won for best future mixed-use project.
Selected out of a pool of submissions from around the world, winners were honored for their innovative designs at this year's Cityscape Awards that were held at the elegant Armani Hotel in Dubai. For the complete list of winners and event details, see the Cityscape Global website.
5+design's Wuhan Tiandi Park Place is a five-parcel mixed-use project that diffuses nature with urban living, a central theme that runs throughout the project's retail, residential and office uses. It will be comprised of two office towers (one 283 meters tall; the other, 186 meters), two residential towers (both 170 meters) and an energy-efficient shopping mall that is intertwined with outdoor park areas on all four of its levels.
"We're honored to have our project recognized at this year's Cityscape Awards," said 5+design Principal Arthur Benedetti. "This project is meant to engage and foster social interaction for the entire community and this is really expressed in the project's layout and design."
Focused on the unique relationship between the people and the environment, Wuhan Tiandi Park is poised to give Wuhan, China its first lifestyle center that creates an environmentally sustainable community. It will bring specialized goods, services, social and cultural amenities to the region that will benefit the city at large.