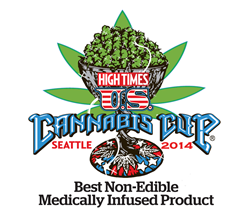 Their CBDemu topical oil made them an award-winning company, and after trying it, you will understand why.
Westfield, NJ (PRWEB) October 03, 2014
Award-Winning Nutraceutical Company
Browns Botanicals is a worldwide nutraceutical company that produces highly effective cannabidiol (CBD) dietary supplement products designed to support overall health and wellbeing. They recently received a prestigious award for their CBDemu topical oil.
Best Non-Edible Medical Product
Browns Botanicals won the award for best Non-Edible Medically-Infused Product (MIP) in the 2014 US Cannabis Cup Seattle. The High Times U.S. Cannabis Cup is widely regarded around the world for recognizing and awarding the very best cannabis products, including buds, flowers, sativa strains, indica strains, hybrid strains, non-solvent hash, concentrates, edibles, topical oils, glass, and other cannabis products.
As the first East Coast company to win a Cannabis Cup for a high-content CBD product, they are now poised to bring their industrial hemp CBD Oil CO2 extracts to patients who are in need, looking, and can potentially benefit. The hemp-derived CBDemu topical oil is one of the strongest-potency topical oils on the market and releases a record-breaking topical potency strength formula containing 75 mg of CBD per ounce. This ensures optimal skin absorption potential, so that it can be quickly, thoroughly absorbed by the body.
This topical oil uses the power of phytonutrients and science to produce highly effective products. Research has also shown that using refined emu oil and cold-pressed virgin coconut oil together can provide additional synergistic benefits, such as enhanced antibacterial and anti-inflammatory properties.
Emu oil is incredibly effective on its own thanks to its ability to quickly carry itself into the body, being one of the only natural oils that can penetrate all 7 layers of skin. The CBDemu oil is also an effective moisturizer, offers a natural source of Omegas, and can aid in a range of conditions. It can be used on its own or together with other oral or sublingual CBD oils for optimal results.
CBDemu Topical Oil has shown to be incredibly effective in supporting overall health; here are some of its most common uses:

Chemotherapy and radiation
Body aches
Scars
Burns
Muscle and joint pain and inflammation
Wounds and incisions
Sunburn
Insect bites
Swelling
Massage therapy and muscle therapy
Dry skin or cuticles
Acne
Much more
One of the Most Potent Topical Oils in the World
CBDemu is used by Olympic athletes, professional sports teams, and a multitude of patients dealing with pain, inflammation, wounds, sunburn, and other common musculoskeletal ailments. It is one of the most potent topical oils in the world. This standardized, premium-quality, ultra-concentrated CBD-rich hemp oil can quickly, accurately target the problem area of the body, for the fastest, most noticeable relief and support possible.
Product Information, Membership, and BB Cares Donation Foundation
There are a range of product options available. The unique hemp CBD oil product line from Browns Botanicals includes tinctures, pure concentrates, vape oil, and topical oil. Some of the ingredients they use in their product line include AEA fully refined emu oil, cold-pressed virgin coconut oil, cold-pressed black cumin seed oil, frankincense CO2 extract, cold-pressed hemp seed oil, and the highest-quality hemp CBD Oil derived from Seed & Stalk from imported industrial hemp.
They also have various membership programs to help reward loyal customers. With their free, brown, or green membership benefits, members can enjoy loyalty rewards, coupons, special offers, and much more to enhance the experience.
To make matters even better, they donate 10% of profits to research and charity foundations to help improve the world even more. They are also committed to environmental sustainability and lowering their carbon footprint.
Improve Health with CBDemu Topical Oil
In today's day and age, there is no way to avoid the harsh ingredients and preservatives found in food, skin care items, and medications. The pure and natural products from Browns Botanicals are made from the finest ingredients around the world and tested multiple times for purity. They are designed to help treat current ailments, while improving overall health and fighting toxins daily.
CBD is non-psychoactive, so it does not cause a "high" effect, like THC. No medical license is required to purchase these products because the CBD Oil is derived from imported industrial hemp, not marijuana, which makes the full product line completely legal, which makes ordering products online easy.
Browns Botanicals takes pride in demonstrating knowledge in the industry and transparency with their customers.