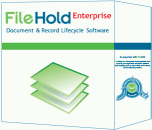 FileHold has been very successful helping the healthcare community with the very challenging tasks of managing ever increasing amounts of electronic informationquotable
Burnaby, BC (PRWEB) September 26, 2014
FileHold Systems Inc., the manufacturer of feature rich, enterprise grade but affordable document management software, announces that it will be exhibiting at the 2014 Annual Meeting and Exposition for the National Association for Home Care and Hospice association being held in Phoenix, Arizona, at the Phoenix Convention Center on October 19-22, 2014.
FileHold software is used and trusted by healthcare organizations of all sizes to help them manage electronic information to make it secure, version controlled, and searchable. FileHold is used by healthcare providers to manage patient records, human resources information, accounts payable documentation, supplier contracts, and project documentation. FileHold is used by healthcare product manufacturers and researchers to maintain critical records related to their products and research. In all cases FileHold helps healthcare organizations become and remain compliant with HIPPA and Sarbanes-Oxley regulations.
FileHold is proud to be an exhibitor for such a well-known and respected industry which is expecting over 2,000 home care and hospice providers from agencies all over the United States. It is reported that over the next 20 years there will be approximately 4 million baby boomers applying each year for healthcare services. FileHold intends to make itself further known to the home care and hospice industry that will be at the forefront of patient care in the near future. We believe our feature rich product can help give the industry the full control it needs over healthcare related documents and records.
Larry Oliver, President of FileHold, said, "FileHold has been very successful helping the healthcare community with the very challenging tasks of managing ever increasing amounts of electronic information. Our customers have reported to us that FileHold software has made the burdensome task of annual audits and compliance reports much easier. With just a few keystrokes HealthCare administrators can generate reports on any topic and provide them to the audit committee. It is recognized that "going paperless – going green" is a desirable goal to improve efficiency and to reduce costs. FileHold software is an enabler of that objective."
FileHold, is a privately owned, Microsoft Gold certified, manufacturer of affordable document management software with over 17,000 seats in production throughout the world. FileHold software is the fast track to the "paperless office," is easy to use, easily interfaces with third party applications, and is tightly integrated with Microsoft Office and SharePoint. FileHold empowers both desk-bound and mobile workers to store and find their important documents, including e-mail, while maintaining tight version control and managed workflow. Sign up for a public demonstration of document management software.