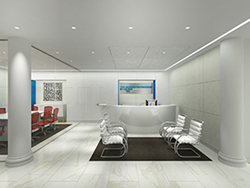 (PRWEB) September 25, 2014
NELSON and The Mufson Partnership announced today that their combined Team has moved into a single New York office located at 22 W 19th Street. NELSON, a global interior design, architecture, engineering, strategies, workplace services and information services firm, and The Mufson Partnership, an interior design practice that offers diverse planning and design capabilities, from feasibility studies to design to move-in coordination, combined operations in April 2014.
Larry Mufson and Ed von Sover, founders of The Mufson Partnership, serve as Managing Principals of the New York operations. Their local presence now consists of more than 80 Teammates with access to a network of nearly 500 additional designers, architects, engineers, strategists, branding specialists and other experts, and serves as a delivery hub for the full spectrum of offered services.
"Our new NELSON/Mufson office represents the size, design attitude and open professional environment that will be a perfect showcase of the combined brand for the business community and all NELSON Teammates," said Larry Mufson, Founder and Principal of The Mufson Partnership. "This is a truly exciting time for our clients, Teammates and brand!"
Encompassing the entire block between 18th and 19th streets, the space accommodates for the future and continued growth of the firm's now largest office. The new space's 10 year lease also presents the opportunity to show clients how the company operates on a day-to-day basis with the implementation of multiple collaboration areas and flexible furniture.
"The sheer scale and volume of the new office signifies strength in the New York and international design and architecture communities," said Ed von Sover, Founder and Principal of The Mufson Partnership. "Particularly, Teammates will benefit from the centralized common area and open pantry which will encourage everyone to work together as a single unit. Also, along with our visitors, Teammates will enjoy the open feel of a full block space with large windows at each end embracing access to sunlight."
NELSON was founded in 1977 and has grown to an integrated services firm offering a full range of architecture, design, engineering and strategic consulting services. With Teammates in multiple locations around the world and strong experience in a broad range of industries, NELSON works with more than 20 percent of companies in the Fortune 100 and is nationally ranked as one of the top firms specializing in Corporate Office Design on Interior Design Magazine's Top 100 Giants list. The firm also specializes in sustainable design and advisory services, the legal workplace, the financial industry, advertising/media firms, retail design, academic buildings, healthcare, government projects and multi-family housing. For more information, visit http://www.NELSONonline.com.
Partners Larry Mufson and Ed Von Sover founded The Mufson Partnership in 1994. The interior design firm has offices in New York City and provides diverse commercial and residential interior planning and design services. For more, visit http://www.mufsonpartnership.com.