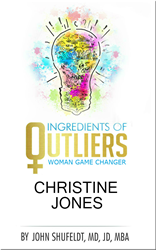 Our five day promotion offering the short eBook featuring Christine Jones for free, will allow students and professionals to learn from an Attorney, CPA and influential Arizona businesswoman, to feel like they are sitting down having coffee with her.
Scottsdale, AZ (PRWEB) September 26, 2014
Outliers Publishing announced today that it will be offering the short eBook with exclusive interview content from Arizona business woman and public figure, Christine Jones, free, in Kindle format on Amazon.com today through September 29, 2014. The book can be downloaded from Amazon.com to any Kindle or device with a free Kindle reader application by visiting the book's Amazon page at http://www.amazon.com/Ingredients-Outliers-Woman-Game-Changer-ebook/dp/B00N28OK6W/ref=sr_1_2?ie=UTF8&qid=1411663260&sr=8-2&keywords=ingredients+of+outliers
Released in August 2014, Ingredients of Outliers: Woman Game Changer Christine Jones contains extended interview content from one of the six influential women profiled in the upcoming book Ingredients of Outliers: Women Game Changers. In short eBook offered now as a free download on Amazon, get to know Christine Jones, who came from a humble background and rose to uncharted territories in her family tree and her industry. She previously served as General Counsel and Executive Vice President at GoDaddy and, despite little to gain personally, moved her office to Washington, DC to push policy that would make the Internet a safer place for users worldwide, especially children. In 2014, Christine Jones became an Arizona gubernatorial candidate. She's passionate about her country, her faith, education, Internet safety, and community service. The eBook is intended for students and professionals seeking personal and professional growth.
Outliers Publishing expects the giveaway to increase awareness of the Outlier Series. The series contains two published books in various formats and two short eBooks. Twelve more full-length books and 72 short eBooks are scheduled to publish over the course of 2014- 2015. The series will introduce students, or prospective professionals of any age to insider tips on becoming an outlier in their desired profession. Readers can expect the Outliers Series to cover careers in: medicine, education, writing / journalism, health, sports, the arts / entertainment, entrepreneurism / business, music, technology, and service to mankind/ to country. For publishing updates, visit http://www.ingredientsofoutliers.com.
To learn about future promotions on the books in the Outliers Series, visit Facebook at https://www.facebook.com/readingredientsofoutliers or the Ingredients of Outliers Blog at http://www.ingredientsofoutliers.com/blog/.
About the Author
The Series is written by John Shufeldt, MD, JD, MBA, FACEP, who is a practicing physician and attorney, as well as a pilot (both plane and helicopter) and business entrepreneur. He is the Principal of Shufeldt Consulting, MeMD, Urgent Rad, Urgent Care Integrated Network, and FindUrgentCare. Shufeldt is also an adjunct professor at the Sandra Day O'Connor College of Law where he teaches a clinic on Health Law Entrepreneurism. He serves on the Drake University Board of Trustees and the Sandra Day O'Conner College of Law Alumni Board