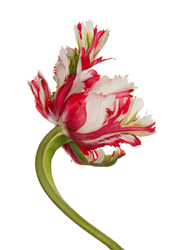 "I guarantee that you will never look at flowers the same way again." - David Leaser, award-winning fine art photographer
San Diego, CA (PRWEB) September 29, 2014
Award-winning fine art photographer David Leaser will present his critically acclaimed "Tulipmania" series, a collection of groundbreaking large-scale tulips, at the Art San Diego Show Nov. 6-9, 2014. Using innovative space-age technology, Leaser presents richly detailed images of botanicals in a way they have never been seen before. His "bee's eye" close-ups highlight details traditional photography has been unable to capture until now, showing almost a microscopic view of a flower's most intricate details.
Leaser developed his leading-edge technique by combing technology from NASA and Nikon. He compresses dozens of layers of photos together for each image, then enlarges them enormously. He then uses another innovative process to produce the final work: polished aluminum. He literally infuses the images into specially treated aluminum panels with heat and pressure. "When you combine this photographic technique with this new medium, you get a piece of artwork unlike anything you've seen before," he said. "The detail and rich colors are intense. It's the difference between a high definition TV and a standard TV."
Leaser has been recognized as one of the world's leading botanical photographers, known for dramatic, exquisitely detailed close-ups of plants and flowers. He has built a reputation for showcasing the exotic and unusual, from centuries-old tulips to rare and endangered species.
Leaser launched his "Tulipmania" series earlier this year at New York's premier Architectural Digest Show, where the collection on display sold out in 48 hours. Now, the collection makes its California debut at Art San Diego. The "Tulipmania" series features exotic tulips, including heirlooms grown from bulbs collected 500 years ago during the tulip craze in Holland. Several images, with their distinctive blood-red flames, are similar to Semper Augustus, once the world's most sought after flower. At its peak, Semper Augustus was worth the price of a city block of houses in 1600s Holland, sparking the world's first economic bubble that burst when prices became overinflated and dramatically fell. Leaser's series is resonating with art collectors. The first reproductions, featured at the 2014 Architectural Digest Home Design Show, sold out in less than 48 hours.
Leaser's artwork has been praised by the art and photographic communities and has been featured in the New York Times, Los Angeles Times, Architectural Digest, Sunset Magazine and Nikon World. He was awarded a Silver Medal in the International Photography Awards, and his "Tiger's Eye" from the Nightflowers series was the only photograph juried for the prestigious London Art Biennale. The Huntington Library in Los Angeles developed an artist series around Leaser's work and selected 11 of his images for their permanent collection. Architectural Digest says Leaser's images "glow with eye-popping color and pattern," and Ann Landi, contributing editor for ARTNews, says, "Leaser's work seduces us as only an unforgettable work of art can, to look and look again." Leaser has written four botanical books, including two acclaimed photographic essays. He is a featured lecturer at botanical gardens and museums on fine art photography. For more information, visit http://davidleaser.com.
The Art San Diego Show showcases the best in contemporary art and is committed to promoting San Diego's art scene. The show features the world's leading contemporary art galleries as well as solo artists, Art Labs and Launch Pad Artists.
The Art San Diego 2014 Show will take place Nov. 6-9, 2014 at Balboa Park Activity Center in San Diego. See http://art-sandiego.com/ for more details. To see Leaser's collection, visit Booth 305.
# # #
________________________________________
For information and photographs, contact Denise Leaser at (800) 928-9098 or visit http://davidleaser.com/press-kit to download text and high resolution images.