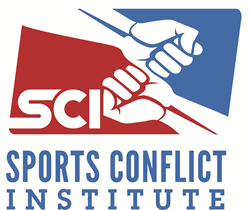 The more proactive you can be about these issues, and the more thought that can go into the group processes ahead of time is really important.
Eugene, OR (PRWEB) September 26, 2014
Sports Conflict Institute's Joshua Gordon and Dr. Ken Pendleton discuss group dynamics with guest Dr. Mark Eys, co-author of Group Dynamics in Sport. They cover elements of group cohesion, it's effect on performance, and which team activities build or undermine cohesion.
Successful group performance is the result of many complex factors, but Dr. Mark Eys of Wilfrid Laurier University specializes in teasing out which factors matter, or at least which can make the difference between winning and losing in a close matchup.
"Ultimately if there is overwhelming talent, it's going to overwhelm," Eys admits. "But (cohesion) could be the differentiating factor when you're talking about groups that are equal with respect to strength." Studies do show there is a reasonable, moderate correlation between cohesion and performance.
So what makes a cohesive team? "When you think about group performance as an outcome variable, it's very complex," Eys says. These factors can be related to leadership, role acceptance, environment, and personality. Two of the most studied are social cohesion, a sense of belonging, and task cohesion, how united a group is around completing a particular task.
To improve both types of cohesion, Eys recommends teams pay special attention to goal setting and not just individual goals. "Getting on (the same) page from a task perspective is probably the first and most pragmatic activity groups can do. Make sure you understand what you're striving for and how you're going to get there. Set performance and process goals that are very specific, that athletes can buy into during practice, that coaches are involved, and that you monitor over time. I think it keeps the team directed."
There could also be such a thing as too much cohesion. "If social cohesion is really high, it can lead to distraction around completing a task," Eys said. "There might be this tradeoff if you consider both the social and task aspects of cohesion. We don't want to get to a point where we can't have open and honest conversations."
A form of team activity that tends to be destructive to cohesion is hazing. "(As a team) you have a goal of welcoming players, to initiate them, to bring them into the fold of the group," Eys said. "Hazing obviously is a real nasty level of initiation and welcoming. There are alternatives, (and doing) welcoming activities in a more positive fashion is really important."
Eys believes that studying and understanding group dynamics allows teams to be proactive with the inevitable conflicts that arise in sports. "It's a really emotional laden environment; players play because they want to be on the field, they have desires that might be in conflict with other players. The more proactive you can be about these issues, and the more thought that can go into the group processes ahead of time, is really important." Thinking about role development, cohesion, and goal setting Eys says, "can save a lot of pain later."
Watch the entire interview: https://www.youtube.com/watch?v=L42QNg-m1Y4
About SCI
SCI supports competitive goals in athletics through understanding, preventing, and resolving destructive conflict both inside and outside the lines. SCI serves as a knowledge center and provides a range of services to help ensure student-athlete experience is part of a healthy university culture while optimizing performance on and off the field of play. Conflict is inevitable, but how we respond determines whether success follows or costs mount. SCI Founder Joshua Gordon has over 20 years of conflict management experience.