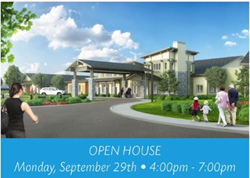 Salem, OR (PRWEB) September 26, 2014
The Avamere Family of Companies will host an open house to celebrate the opening of the newly constructed Salem Transitional Care Facility located at 3445 Boone Rd. SE in Salem, Oregon. The post-acute care facility will begin admitting its first patients on October 1st.
Situated on five acres of land next to the existing Bonaventure Assisted Living and Retirement Community, the $13M, 53,000-square-foot Salem Transitional Care will provide residents of Polk and Marion counties recovering from illness or injury with intensive skilled nursing and rehabilitation services.
"We are so excited to open our doors," says Cheryl Anderson, Administrator for the new facility. "A lot of thought and planning went into creating Salem Transitional Care. It was our goal from the beginning to create a place where our mission to enhance the life of every person we serve is lived out in every aspect, and we have achieved that."
Salem Mayor Anna Peterson is featured as a guest speaker during the Open House ceremony. Attendees can enjoy live music by Mosiah and the ONE LOVE Band. Food and drinks will be provided.
Salem Transitional Care will have 79 skilled nursing beds with 72 private rooms. Designed by local Salem firm CB | Two Architects and constructed by LCG Pence, approximately 120 new construction jobs resulted from the project.
About Avamere Family of Companies
Founded in 1995 and based in Wilsonville, Ore., the Avamere Family of Companies began as a single nursing facility in Hillsboro, Oregon. Today, the Avamere Family is comprised of 46 Independent Living, Assisted Living, and Skilled Nursing facilities and three ancillary healthcare companies that provide an array of services including inpatient and outpatient rehabilitation, home care, home health, and hospice.
# # #
For more information about this topic, or to schedule an interview, please call Cheryl Anderson at 503-539-6994 or email Cheryl at CLAnderson(at)avamere(dot)com.