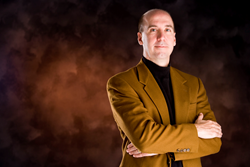 I see my job as a futurist as helping clients and audience members create the future by thinking about it in a new light.
Orlando, FL (PRWEB) October 02, 2014
Highly acclaimed global futurist Jack Uldrich has been confirmed as the guest keynote speaker for the 2014 Emerson Global Users Exchange in Orlando, FL.
The Emerson Global Users Exchange is a unique opportunity to exchange ideas, best practices, and proven solutions with the leaders in the process industry. They offer an immersive curriculum of workshops, courses, industry forums, technology exhibits and much more. Run by users, for users – the 2014 Emerson Global Users Exchange is a user community committed to extracting the most from their automation investments and sharing their learning.
With those goals in mind they have selected trend expert and global futurist Jack Uldrich to keynote the Exchange on October 6th. As global manufacturers of electrical products for commercial, industrial, hazardous and adverse environments looking closely at future trends is essential. And Uldrich is well respected for his insights when it comes to future trends and preparing for change.
Uldrich says, "Each year information technology is only getting better, faster, and cheaper; and hundreds of millions of new individuals are being drawn into a hyper-connected and networked global economy. The previously unknown ideas and insights of those hundreds of millions of individuals are now being added to the global consciousness, further accelerating change."
His presentation for the 2014 Emerson Global Users Exchange is "designed to help them create the future by thinking about it in a new light."
Quoted as being "an extremely knowledgeable and engaging facilitator" and for "setting a tone of optimism and creativity that lasted the whole conference" Uldrich is sought after in several fields, from manufacturing to retail, energy to education, agriculture to finance to name a few. His clients include the National Association of Manufacturers, Verizon Wireless, United Healthcare, PMMI, ABB/Thomas & Betts, among others.
Parties interested in learning more about him, his books, his daily blog or his speaking availability are encouraged to visit his website. Media wishing to know more about either the event or interviewing Jack as a futurist or trend expert can contact Amy Tomczyk at (651) 343.0660.