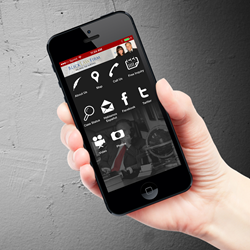 It is proactively reaching us to our clients and vice versa; so the client's time throughout the case is that much more relational and communicative.
TAMPA, FL (PRWEB) September 30, 2014
Blick Law Firm is celebrating its recent release of its Mobile App. Blick Law Firm is an innovative and tech-savvy law firm integrating a mobile application as a technological enhancement for its communication with its staff, clients and working professionals.
Those with the downloadable application will be connected in 'real time' to all social interaction by the firm; receive daily notifications from the firm; maintain connected to a responsive firm staff of attorney(s) for case updates and inquires.
The Blick Law Firm's Mobile App features include:

Blick Law Firm now has the ability to offer special promotions, and enable clients to make appointments via their phone.
Enable clients to call in a click, and collect feedback and information to use for future promotions.
Current clients now have the ability to inquire about their case status via the mobile app.
Blick Law Firm can send push notifications to connect with clients instantly and inform them of any announcements or special offers anytime, anywhere.
Clients have the ability to stay connected via the social channels. Sharing photos, videos, Facebook posts, Twitter feeds, and more.
"The Mobile App is not solely meant to be a typical app that you may have seen advertised for what to do if you get into an auto accident," said director of operations and marketing Dana Blickensderfer. "It is proactively reaching us to our clients and vice versa; so the client's time throughout the case is that much more relational and communicative."
An inauguration of this special development for the firm was unveiled Friday, September 19, 2014. Blick Law Firm hosted a private launch party at local Gios Italian Restaurant located at 3621 W Waters Ave Tampa FL 33614. Medical providers, doctors, attorneys and many professionals the firm works closely with were invited to 'The Blick Black Mobile App Launch'.
This dress to impress all black gala was a huge success as local Tampa Bay prominent professionals and distinguished entrepreneurs were in attendance. Attorney Michael Blickensderfer and his wife and daughter along with staff held interviews and photo opportunities with attorney Blickensderfer. Those attending the event downloaded the application and gave positive feedback for the firms' vision and mission of the mobile app.
"The support and turnout was remarkable," said office manager Viviane Blickensderfer. "The launch for the Mobile App in connection to giving back to the community and connecting with clients is a blessing to achieve. We are truly thankful for the support in our mission to helping the hurting."
It was also revealed at the Mobile App Launch that proceeds of each download of the application would be generously donated to a local church, charity, or non-profit organization the Blickensderfer's select each month. As another step in 'helping the hurting' the firm feels this directly connects to its mission and downloading the application will help to reach that goal to give back. Additionally sponsors at the event such as: Provoke Art, Mahayana Sfeir Consulting, Black Toro Media, Tampa Prints Business Solutions, Tampa Bay Imaging supported the firm's mission for hosting such a spectacular occasion.
After the Mobile App unveil the firm plans to personally connect each current and future client to its new application in its new protocol for the firm's legal representation process.
To download the mobile application and for more information please visit: MobileApp.BlickLawFirm.com GET IT NOW! Available on all the major app stores.