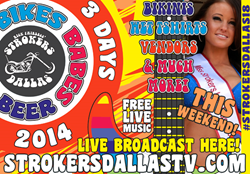 Viewers can watch the event via StrokersDallas.com and from Cinsay's Smart Store™ video, which links from Strokers Dallas Facebook and Twitter fan pages along with Strokers Dallas' shopping site, ShopStrokersDallas.com
Austin, TX (PRWEB) September 26, 2014
Cinsay and Strokers Dallas announce a multi-year broadcast and merchandising agreement. The first event will be this weekend's live-stream, exclusive HD webcast from the legendary motorcycle custom shop on September 26-28th in celebration of the venue's 18th anniversary. The global three-day broadcast will include live bands, contests, bikini shows and interviews with the founder, along with live views from the Strokers Ice House to The Bike Shop. Viewers can watch the event via StrokersDallas.com and from Cinsay's Smart Store™ video, which links from Strokers Dallas Facebook and Twitter fan pages along with Strokers Dallas' shopping site, ShopStrokersDallas.com
Rick Fairless, who has been featured in Discovery Channel show, is the founder of Strokers Dallas; one of the most famous custom motorcycle shops in the country. The shop sells Victory Motorcycles, which are built 'state of the art' and from the ground-up customs. They feature a large selection of used motorcycles, like Harley Davidson. Located on 2.5 acres along Harry Hines Blvd, just north of downtown Dallas, the shop is a motorcycle enthusiasts' dream. Additional to the sales department, they have a fully stocked parts department, apparel department, service department, custom building, Strokers Ice House Bar & Grill, Strokers Ink: Tattoo & Piercing Parlor and RF Custom Parts. This year, Fairless also opened the Big State Fountain Grill in Irving, Texas. The anniversary party is expected to draw thousands of people and even more people watching online.
"This annual event is something we're very proud of and being able to broadcast it live for the first time to our biker fans around the world using Cinsay's technology is absolutely incredible," said Rick Fairless, founder of Strokers Dallas. "With live bikini girls, the Wet T-shirt Contest and bands playing for everyone to see, this will be THE best anniversary celebration yet," Fairless added.
All during the live broadcast this weekend; viewers can share the video and embed it on their own Facebook feed and tumblr pages. Each shared video will also carry the Strokers Dallas merchandise and links enabling others to have the ability to instantly purchase exclusive anniversary merchandise, including special tie-dye designs of t-shirts, caps, phone covers, and Strokers branded merchandise – all inside the video and without viewers having to 'link out' or leave the virtual party experience.
"Being part of this legendary bike shop's anniversary party is beyond exciting," said Christian Briggs, Founder and CEO of Cinsay. "Strokers Dallas is an epic experience that's hosted celebrities such as Pro Athlete, Herschel Walker to Aerosmith guitarist, Joe Perry, and now, Victory and Harley bikers and Sturgis fans around the world can join the party in HD this weekend from their phones, laptops and tablets and even come away with a t-shirt or cap; it's going to be epic!"
Details of Strokers Dallas 18th Anniversary Event:
What: The 18th Anniversary Celebration at Stroker's Dallas
When: Friday, September 26-28th, 2014 beginning at 6:00 PM CST
Where: Strokers Dallas, 9304 Harry Hines Blvd., Dallas, Texas 75235 and online at http://www.StrokersDallas.com
Hashtags: #StrokersDallas #StrokersDallas18
Schedule of Weekend's Events:
FRIDAY SEPT 26
2:00 pm to 6:00 pm - Happy hour
6:00 pm - SunBru Bikini Drive Thru: Social Media Challenge with our babes
7:00 pm to 11:00 pm - 7th Son Live
SATURDAY SEPT 27
11:00 am to 3:00 pm - Rockenstein Live
3:30 pm to 7:30 pm - Last Call Live
5:00 pm - Wet T-shirt Contest
6:00 pm to 11:00 pm - $1 Drafts and $1 Jell-O Shots
8:00 pm to 11:00 pm - Coco-Bann Live
SUNDAY SEPT 28
11:00 am to 3:00 pm - Texas Underground Live
3:30 pm to 7:30 pm - Texas Strut Live
5:00 pm - Bikini Contest
6:00 pm to 11:00 pm - $1 Drafts and $1 Jell-O Shots