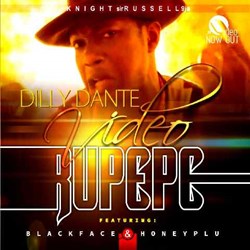 Dilly Dante and Okaome light up the Nigerian music industry with their new song called Rupepe, featuring Blackface of former Plantashun Boiz, and also Honeyplu of Massive Crew.
Enugu, Enugu (PRWEB UK) 13 January 2014
Over the years, African music has beautifully evolved into a cultural treasure that can be enjoyed worldwide. Dilly Dante, who hails from Enugu State Nigeria, has added his own flavour of authentic African music to the genre with the introduction of his new track, "Rupepe."
Dilly Dante was signed on by Okaome Records recently, to bring his complex and upbeat music to audiences across the world. His song title, "Rupepe," literally translates to mean, "the movement of the lower body." "There really isn't a more apt name for this song. Every time I hear it, I can't help but start moving and singing along. Dilly Dante is one of the best discoveries in the African music scene that I've seen in a long time," said Dante's manager, Benedict Nosike, at Okaome Records.
Rupepe was produced by NERUZ. The song comes with an amazing video by a fast-rising music director /editor, Sir Russell 9ja Knight, who produces highly popular films in Nigeria. Sir Russell has a unique way of translating music to video art. In the reviews of the video created for Dante, it was clearly noted that Sir Russell is indeed a very good cinematographer. "It was an honour to work with such an esteemed leader in the Nigerian film industry. His talent shows in the video, as it does in everything he works on," said Dilly Dante when asked about his experience working with Sir Russell.
This Nigerian music style that is typically referred to as Rupepe has true African heritage, and keeps listeners dancing with its fun percussion and rhythm. Dilly Dante's version of Rupepe is a great song, and the video should not be missed by fans.
Not only does the video include Dante and his impressive vocal talents, but it also features one of Nigeria's finest song writers and singers, Blackfacenaija, who is a former member of the group Plantashun Boiz, consisting of 2 Face Idibia and Face.
Also included in the team that worked to create this song is Honeyplu, a beautiful young performer who has amazing lyrical content and vocal range
For more information, please contact:
Benedict Nosike
b(dot)nosike(at)siilkproperties(dot)co(dot)uk
44 785 284 0527