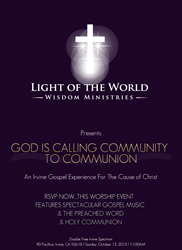 Visit and Love where you Worship!
Irvine, CA (PRWEB) April 04, 2014
The Light of the World Wisdom Church in Irvine, CA will celebrate its commencement by holding ever-increasing Sunday Worship. How? The first year, worship every 1st Sunday; the second year worship every 1st and 2nd Sunday and so forth.The special launch worship services will allow the community of Irvine, CA to meet and greet its Sr. Pastor, Teka L. Barber. The Church also commences its launch year 2013/2014 Noon Bible Study to be held every 2nd-4th Sunday of each month 2014. The strategy further allows the community to fellowship in the Pastor's interactive study of God's Holy Word.
The Church empowers Ministers in Training, Educators, Spiritual Leaders and the Community of Orange County at large without binding anyone to mandatory local membership because they feel The Call of God is irrevocable and people, like seasons, continuously change, excel and powerfully prosper by rising relationship with God. This is a great time to visit the new Church for First Sundays, Awesome Afternoon Worship at 2PM gathering at 90 Pacifica, Irvine, CA 92618.
The Light of the World Wisdom Church would love to be Orange County residents' new Church home. They invite anyone interested to visit the first Sunday of each month for Holy Communion, Prayer, Praise and Spirit-filled fun Worship. The Church is supported by the generous giving contributions of all people around the world who invest in the wisdom of The Risen Christ's Church. Visit http://www.lightoftheworldwm.org and click on Endowment to learn more! Founded in October, 2013, The Church ask that you join in partnering with us because success involves you, leaders in community worldwide! And, In addition to generous giving online,The Church has 24/7 Bible-based Prayers designed to teach and lead you in getting Answered Prayer Now!