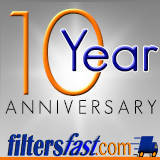 Customers who visit the Facebook page this week will have the opportunity to win a year's supply of air filters. - FiltersFast.com
(PRWEB) May 19, 2014
Ten years ago this week, Ray Scardigno, founder and CEO of FiltersFast.com, needed to replace his refrigerator water filter. He searched online, and much to his surprise, he could not find water filters on the internet. Seeing a potential opportunity, Ray decided to put together a website that would sell the filters that he was searching for.
Within two weeks of the site's launch, Ray knew he had something unique that people could use to save time and money. The rest is history. Growing from one employee in Scardigno's basement, to over 50 full-time employees occupying multiple warehouses and a corporate office, FiltersFast.com is now proud to be the leading e-commerce source in water and air filtration products.
Increasing product selection from one type of refrigerator filter to over 15,000 unique filtration products, FiltersFast.com continues to expand to meet customer needs. Customers who visit the Facebook page this week will have the opportunity to win a year's supply of air filters.
Since 2004, FiltersFast.com remains fully committed as the authoritative resource in air filters and water filters. The company offers first-rate products at the best competitive prices. They strive to add to their customer's overall quality of life by simplifying a sometimes mundane, yet very necessary task. For more information about their wide-range of air filters and water filters, visit http://www.filtersfast.com or call customer service at 1-866-438-3458.