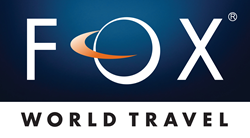 Oshkosh, WI (PRWEB) September 30, 2014
Fox World Travel has recently enhanced its partnerships with FlightStats, the premier provider of en route flight status information to travelers worldwide. With information for approximately 99.5% of all domestic flights and 85.6% of all international flights, FlightStats tracks status in real time and messages travelers with updates. They also report on both runway and gate times, provide codeshare mapping and store historic data to calculate on-time performance for flights.
Fox Vice President Lori Meress commented, "At a time when flight interruptions are prevalent, we are pleased to expand our partnership with this supplier of critical data for travelers."
Fox World Travel, Inc. is a leading provider of travel management services, helping organizations succeed in building policies, compliance and financial advantages into their domestic and global travel programs. In addition to their Business Travel Division, they offer a variety of travel planning services through their Vacation Travel Division and Premier Meetings and Incentives.