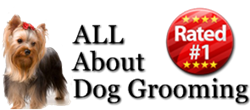 Learn to Groom allows you to keep your beloved dog feeling happy and looking great by the loving touch of it's owner.
Los Angeles, CA (PRWEB) October 01, 2014
Turn a house into an in-home Grooming Salon. Customers of Learn To Groom can implement hands-on care with any variety of dog without the discomfort of potential trauma that may occur to a dog by grooming with strangers. By choosing Learn to Groom, dogs can get a professional bath, full groom, and customized experience to its temperament and unique disposition. With Learn to Groom, never schedule a third party dog groomer again. Why talk to someone else about a dog's specific needs when the owner knows them better than anyone?
Learn to Groom allows clients to keep beloved dogs feeling happy and looking great. Through professional tutorials and techniques, Learn To Groom can give dogs head-to-tail care the same way academy-trained dog groomers do. Please visit http://learntogroom.com for more information
According to the American Pets Products Association, U.S. pet owners spent $4.1 billion on grooming and boarding in 2012. That is great news for pet groomers looking to grow their businesses, but it also means consumers are spending too much money for something they can do themselves.
For all dog grooming needs, Learn to Groom is the best in the industry, and recently announced 50% off savings for a comprehensive starter package. This is a limited time deal. For more information contact Learn To Groom at http://learntogroom.com or call directly at 888-800-1027
Learn to Groom allows clients to keep beloved dogs feeling happy and looking great. Through professional tutorials and techniques, Learn To Groom can give dogs head-to-tail care the same way academy-trained dog groomers do. Please visit http://learntogroom.com for more information
According to the American Pets Products Association, U.S. pet owners spent $4.1 billion on grooming and boarding in 2012. That is great news for pet groomers looking to grow their businesses, but it also means consumers are spending too much money for something they can do themselves. For all of dog grooming needs, Learn to Groom is the best in the industry, and recently announced 50% off savings for a comprehensive starter package. This is a limited time deal. For more information contact, your friends at http://learntogroom.com or call directly at 888-800-1027