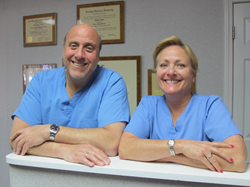 Red Bank, NJ (PRWEB) September 29, 2014
In honor of Self-Improvement Month this September, Dr. Allan Ruda and Dr. Beverly DeAngelis invite patients to stop putting off the cosmetic dental treatment that they need. A smile is an important thing, and people deserve to feel good about the appearance of their teeth. These experienced doctors offer advanced procedures for cosmetic dentistry in Red Bank, NJ, from dental implants for the replacement of missing teeth to professional whitening systems.
Those who feel self-conscious about their smiles often try to avoid smiling in public. They suffer from unfair judgments from their peers, and are less likely to be happy and successful than those with a confident smile. Confidence and appearance affect every aspect of people's lives. Dr. Ruda and Dr. DeAngelis believe that everyone deserves to feel good about their smile and their overall oral health. Cosmetic dentistry in Red Bank, NJ is an affordable branch of dentistry that focuses on changing the appearance of teeth in many possible ways. Some patients simply require crown lengthening, while others need silver fillings replaced with composite, or tooth colored, fillings. The doctors also offer tooth whitening, veneers, crowns, dental implants, and more to improve the appearance and function of patients' smiles.
Implants are one of the most effective ways to replace missing teeth. Whether patients have only one or two missing teeth, or they need extensive tooth replacement, implants serve nearly as well as natural teeth. Unlike dentures, dental implants allow patients to eat any food they desire without the threat of their tooth replacements loosening or falling out. Proper care for implants is as easy as brushing and flossing in the same way as is performed for natural teeth. People, therefore, do not have to worry about adding an extra step to their oral hygiene habits.
Dr. Ruda and Dr. DeAngelis encourage local residents to take advantage of Self-Improvement Month and get the help they need to be confident and healthy. Anyone who wants to learn more about affordable options for cosmetic dentistry in Red Bank, NJ is requested to visit Dr. Ruda and Dr. DeAngelis' website or contact their office by phone. The doctors perform personalized consultations to discuss treatment options so every patient can receive individualized care for their cosmetic concerns.
About the Doctor
Allan Ruda, DDS & Beth DeAngelis, DMD are general dentists offering personalized dental care for patients in Red Bank, NJ. Dr. Ruda is a member of the Dental Organization for Conscious Sedation and has trained with some of the world's most prominent sedation dental specialists. Dr. Ruda belongs to the one percent of dental professionals currently providing the LANAP® protocol, the first FDA-cleared laser procedure for gum disease and periodontal treatment. The office of Dr. Allan Ruda and Dr. Beth DeAngelis specializes in general dentistry for patients of all ages and offers a variety of advanced procedures, including dental implant placement, sedation options, cosmetic dentistry, and advanced technology. To learn more about Allan Ruda, DDS & Beth DeAngelis, DMD and their dental services, please visit their website at http://www.drruda.com and call 732-945-7856.