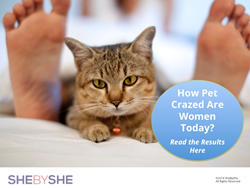 Burlingame, CA (PRWEB) September 30, 2014
In results from a recent survey by SheByShe, the leading women's opinion site, 85 percent of participating women said their pet is their best friend; 99 percent said their pet is a member of the family. If these women had only one hour of free time, 54 percent would choose to spend that hour with her pet over a human best friend or family member. Over 1000 women, from across America, participated in the survey.
It's always been understood that a dog is man's best friend. Now, it's a different story: a dog is also women's best friend. When asked what they would choose if they could only have one pet, 59 percent said they would choose a dog over a cat. As one woman said, "I love how my dog is excited to see me and comforts me when I'm sick or blue." Another said, "Dogs are amazing companions that want to go out in the world with you." Another said, "I have loved cats, everything about them, since I was very young. They are the best friends."
How Much is Too Much?
When it comes to spending money on their pets, these women believe they spend about $100.00 per month or less on pet expenses related to pet ownership. Sixty-three percent of the respondents believe daily daycare for dogs is a reasonable expense, and 82 percent believe pet insurance makes sense.
Only 21 percent of women taking the SheByShe survey believe that pet owners go overboard on how they treat their pets. Most women, 70 percent, said buying special purses to carry dogs is going too far while 54 percent think it is outrageous to dress dogs in special outfits and clothing, and 61 percent think it is going too far to have parties to celebrate pet birthdays.
Cat Lovers Speak Up
Fifty-five percent of the women who would choose a cat over a dog do so because they believe cats are easier to care for and more self-sufficient. One respondent commented, "I'm too busy for a dog. I don't have to worry about getting home to let them out."
The fact that cats can be a 100 percent indoor pet is particularly appealing to many women. One woman said, "You don't have to walk a cat in the winter."
More Pet Opinions
The survey uncovered these additional pet ownership insights:

Ninety-two percent of participating women believe all pet breeders should be licensed and undergo regular inspections by an enforcement agency.
Fifty-five percent think everyone should adopt a dog or cat from an animal shelter or adoption agency instead of a breeder or individual.
Ninety percent think it is critical to spay or neuter all pet dogs and cats for population control purposes.
SheByShe is Providing Women a Voice
The SheByShe "Our Pets" survey questioned Internet-savvy women, ages 20-64, from across the U.S., and they represent a broad range of ages, income levels and geographic locations.
A colorful, visual slideshow of survey results can be found here.
The survey was conducted in August and September of 2014 and represents the views of 1090 women.
About SheByShe
SheByShe is a women's opinion site dedicated to sharing what women think about important issues. SheByShe is committed to being objective and transparent. SheByShe is not affiliated with any political party, religion or other group. Surveys are fielded to cover current social, lifestyle, economic, and political issues. Results are posted on SheByShe.com and are shared with key influencers and publicized through major media and information dissemination sources. Participating women feel satisfied that they are speaking up and sharing their point-of-view. For more information or to contact SheByShe please go to http://www.shebyshe.com.
####
SheByShe is a trademark of SheByShe. All other product names and trademarks are the property of their respective owners.