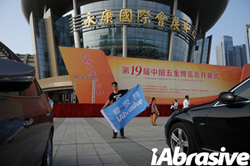 Zhengzhou, China (PRWEB) October 01, 2014
According to iAbrasive latest news, the 19th China Hardware Fair took place on Sept. 26, 2014 in Yongkang International Conference and Exhibition Center as scheduled. Business giants in the hardware industry from all over the world and hundreds of thousands purchasers in China gathered here to attend the globally exhibition. As a leading platform in the abrasives foreign trade, iAbrasive has sent representatives--Liu Jiadong and Hou Wenshuai to attend the show.
According to iAbrasive, at the exhibition site was a boisterous crowd. The exhibitors were so active that the booths were not sufficient and some exhibitors had to put up their booths outside the exhibition hall. Visitors were also enthusiastic. Yongkang's defense work was well-prepared, with traffic polices and public security corps to keep roads clear and maintain a good order at the site.
The 19th China Hardware Fair mainly showed the following categories:
1. Electric tools: electric tools, pneumatic tools, air tools, steam guarantees the tools, abrasive products, cutting tools and accessories.
2. Hardware Tools: cutting tools, hand tools, garden tools, plumbing tools, hoisting tools, hydraulic tool, etc.
3. Daily-use Hardware and Hardware Appliances: stainless steel products, hutch defends hardware appliances, technology hardware, weighing apparatus, hotel supplies, etc.
4. Cars and Fitness of Leisure: motorcycle, electric cars, scooter, bicycle, beach cars, cart and all kinds of vehicles with accessories.
5. Mechanical and Electrical Products: air compressor, electric, motor, pump, cleaning machines, marking machines, etc.
6. Mechanical Equipment: lathe, milling machine, planer, punch, compressor, injection molding machines, die casting machines, woodworking machinery, spraying equipment and large mechanical equipment.
A Brief Introduction to the Show
The China Hardware Fair is one of the key fairs supported by the Ministry of Commerce of the People's Republic of China and the government of Zhejiang province. It has been successfully held for 16 years since 1996 which gathered more than 2000 enterprises among the provinces, municipalities, autonomous regions and more than 30 countries and areas. It is known as a significant international event in the hardware industry. The influence and reputation of the China Hardware Fair has been continuously enhanced. Relying on the vital hardware production and exportation base and the Chinese largest collecting and distributing center—Yongkang and its market advantages. The exhibition has become a professional trade show for the hardware industry.