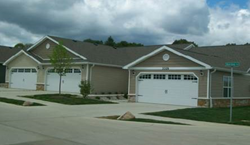 Again, RED delivered on their terms quickly and without headache. We're glad to have Andy Warnock and the team at RED on our side.
Dallas, TX (PRWEB) September 30, 2014
RED Mortgage Capital, LLC, the mortgage lending entity of comprehensive capital provider RED CAPITAL GROUP, LLC, announced the placement of permanent financing in the amount of $8,225,000 for Waterstone at Village Square, a multifamily community located in Lake Orion, Michigan, approximately 36 miles north of Detroit.
The refinance of the original construction loan utilized a Fannie Mae DUS® 20-year term fixed-rate loan with a 30-year amortization. Redwood Living completed construction in early 2014 on this 77-unit multifamily ranch-style community.
Steve Kimmelman founded Redwood Living's predecessor company in 1991 with a focus on multifamily properties designed around the desires of residents, which included a single-story open floor design with an attached garage. By acting as both the developer and management company, Redwood ensures high quality apartment homes at affordable rental rates. Redwood currently manages more than 4,000 units in Ohio, Michigan and Indiana.
David Conwill, President of Redwood Communities Group, said, "We are pleased with Waterstone at Village Square, our first luxury apartment project completed in Michigan. As soon as we delivered our final unit, RED was there with very competitive permanent financing terms." Conwill continued, "Our long-term relationship with RED has provided us certainty of execution. Again, RED delivered on their terms quickly and without headache. We're glad to have Andy Warnock and the team at RED on our side."
"Redwood is a first-class organization with whom RED has had the privilege to work on numerous occasions," said Andy Warnock, Director at RED. "Fannie Mae stepped up to the plate and offered aggressive terms in a pre-review market, which allowed Redwood the ability to refinance their construction loan in a timely fashion. Working with a great group like this makes our job much easier."

About RED CAPITAL GROUP, LLC
Recognized for its industry expertise, innovative and comprehensive structures, and consistently high rankings, RED CAPITAL GROUP, LLC has provided over $55.3 billion of integrated debt and equity capital since 1990 to the seniors housing and health care, multifamily, affordable, and student housing industries through three operating companies. RED Mortgage Capital, LLC is a leading Fannie Mae DUS® and MAP- and Lean-approved FHA lender with a mortgage servicing portfolio of almost $18 billion. RED Capital Markets, LLC (MEMBER FINRA/SIPC) is a leader in the distribution of Fannie Mae and Ginnie Mae Project MBS, and provides structuring, underwriting, placement, and advisory services for tax-exempt and taxable housing and health care bonds. RED Capital Partners, LLC provides proprietary debt and equity solutions, and asset management in a range of forms, including subordinated gap and bridge loans. RED CAPITAL GROUP, LLC is a subsidiary of ORIX USA Corporation.
About ORIX USA Corporation
ORIX USA Corporation is a diversified financial company with approximately $6 billion of assets in sectors spanning commercial finance, venture finance, commercial real estate and public finance, as well as $25 billion of assets managed for others. Operating subsidiaries include Houlihan Lokey, RED CAPITAL GROUP and Mariner Investment Group. Headquartered in Dallas, Texas, ORIX USA and its subsidiaries have more than 1,400 employees and offices in major cities including New York, Los Angeles, London and Tokyo.
ORIX USA is a wholly owned subsidiary of ORIX Corporation, a Tokyo-based, publicly owned international financial services company with operations in 35 countries worldwide. ORIX Corporation is listed on the Tokyo (8591) and New York Stock Exchanges (IX). For more information on ORIX USA, visit http://www.orix.com.