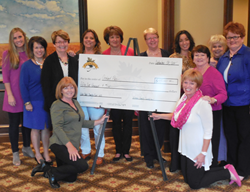 Orchard Place is so fortunate to have such strong supporters such as the Glen Oaks Charity Foundation
Des Moines, IA (PRWEB) October 01, 2014
Orchard Place, mental health experts for Iowa's children, is proud to be the recipient of $55,000, the proceeds from this year's Glen Oaks Women's Charity Classic. In partnership with Variety – the Children's Charity of Iowa, the proceeds of the event will be used to purchase two vans that will be utilized for transportation for Orchard Place children.
"Orchard Place is so fortunate to have such strong supporters such as the Glen Oaks Charity Foundation that held a dinner, auctions, and a golfing event to raise money for our organization this year. We are so grateful for the time, energy and their ongoing commitment to improve the lives of Iowa's children," said Orchard Place Chief Executive Officer, Anne Starr.
The Glen Oaks Women's Charity Classic is quickly becoming a top charitable fundraising event in the Greater Des Moines area. Celebrating its 10th year, the Classic has donated more than $400,000 to help improve the lives of women and families throughout central Iowa.
The goal of the organization is to support the members of the greater Iowa community in their time of need while working towards a greater good. For more information about the Glen Oaks Women's Charity Classic, visit http://www.gowcc.org/
About Orchard Place:
Orchard Place is the oldest locally-based charity in Des Moines providing mental health treatment and expertise for Iowa's kids. Our inpatient, outpatient and community program serves nearly 8,000 children from birth to age 22 annually. Four operating divisions work under the Orchard Place umbrella of services: Child Guidance Center, Orchard Place Campus, PACE Juvenile Center and the Integrated Health Program. More information can be found at http://www.orchardplace.org