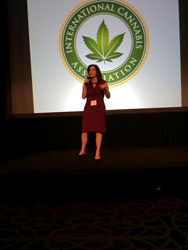 Mr. Nicolazzo will also be revealing the new PotLocator.com, a directory service that is projected to generate upwards of $20 million in revenue per year.
New York, New York (PRWEB) October 01, 2014
With the recent legalization of medical marijuana by Governor Andrew Cuomo, the International Cannabis Association has decided to host its next conference here in the Big Apple! The ICA Conference, being held October 11-13th in the Marriot Marquis in the heart of Times Square, was created to assist individuals and businesses who are interested in exploring the possibility of stepping into the medical cannabis or related industry.
MarijuanaDoctors.com is excited to announce its Presidential Sponsorship for the upcoming conference in collaboration with the International Cannabis Association. "The International Cannabis Association's mission is to help businesses get started and be successful in the cannabis industry," states Dan Humiston, co-Founder of the International Cannabis Association. "From engaging area lawmakers to industry leaders, our conference attendees receive valuable insight and mentoring from one location. Our goal is to educate and inspire entrepreneurs around the world to follow their passion and get in the 'green rush' of new business opportunities." Humiston continues, "The International Cannabis Association is grateful for the support of MarijuanaDoctors.com and their participation as the exclusive Presidential Sponsor of the ICA's East Coast Regulatory Summit and Educational Conference. The knowledge and experience shared by the leadership team at MarijuanaDoctors.com will help shape the future of the cannabis industry in New York and on the East Coast."
MarijuanaDoctors.com has a goal of establishing and outlining the necessary framework for those parities within the cannabis industry that wish to expand and grow their enterprise. Because MarijuanaDoctors.com is unique in its approach to providing necessary ancillaries to the cannabis and medical industries it is perfectly positioned to educate others who wish to create a similar foundation and reach the same level of success.
MarijuanaDoctors.com CEO Jason Draizin and COO John Nicolazzo collectively have over 12 years experience designing, developing, creating, and running successful business ventures from internet technology companies to large scale real estate corporations. Their unique backgrounds and honed skills come from years of experience that cannot be ignored. Being entrepreneurs themselves they understand the problems and challenges faced by large scale companies and small businesses alike. They will be speaking in the hopes of delivering useful and pertinent information that will hopefully help you not only network and build meaningful connections but bring your canna-business to the next level.
In addition to answering questions and facilitating new relationships, COO John Nicolazzo will be giving an exclusive sneak peak of MarijuanaDoctors.com Insurance Module and online software to interested physicians and hospital groups. For those businesses not medically inclined Mr. Nicolazzo will also be revealing the new PotLocator.com, a directory service that is projected to generate upwards of $20 million in revenue per year.
This year's International Cannabis Association Conference will be the largest and most exciting yet. Whether you are a physician who wants more information about this new industry, an attorney who represents canna-businesses, an entrepreneur wishing to create your future, or a patient simply wishing to become more educated we highly encourage you to come to the event on October 11th to October 13th at the Marriot Marquee in Times Square New York, NY.
For more information on obtaining tickets or for any questions you may have please call John Nicolazzo at (305) 728 - 4858