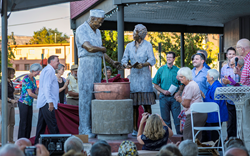 Grand Junction, CO (PRWEB) September 30, 2014
On Friday, September 26th, Grand Junction celebrated the lives and community service of Chet and Vernie Enstrom, founders of the World Famous Toffee company, Enstrom Candies.
Chet and Vernie Enstrom were honored by the Legends Sculpture Project with a larger-than-life bronze sculpture of the couple handcrafting a batch of Almond Toffee in a large kitchen kettle. Chet's original Almond Toffee recipe was created in small batches for family and friends. However, once the word got out about this delicious treat, Chet Enstrom's Almond Toffee became the "gold standard" for toffee around the world. This sculpture, titled "Mixing a Legacy," was created by Karen Jobe Templeton of Helper, Utah and is now located at 7th and Main street one block North of Enstrom Candies' manufacturing facility and corporate office in Grand Junction, CO. The famous "candy kitchen" is the same location where Chet Enstrom started the Jones-Enstrom Ice Cream Factory in 1929.
The Legends Sculpture Project was created to showcase and preserve the stories of those historically significant to the Grand Junction community. Chet and Vernie Enstrom were business leaders, candy craftsmen and philanthropists by nature. The couple was chosen as the eighth Legends Sculpture Project and will be integrated into the Art on the Corner collection in an effort to establish a "walking tour of history" in the downtown Grand Junction area.
###
About Enstrom Candies: Enstrom Candies, known worldwide for its exquisite almond toffee, has been operating in the same Grand Junction location since Chet started the Jones-Enstrom Ice Cream Company in 1929. In addition to World Famous Almond Toffee, this fourth-generation, family operated business proudly creates a variety of delicious confections including assorted chocolates, truffles, gourmet toffee popcorn and a sweet selection of premium ice cream. To learn more about Enstrom Candies visit http://www.enstrom.com