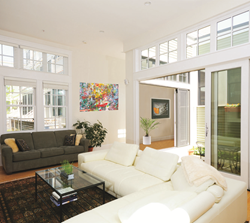 MIWD's Multi-Slide Door is a powerful addition to the MI EnergyCore product line.
Prescott Valley, AZ (PRWEB) October 02, 2014
MI Windows and Doors recently announced a partnership with Slide Works, Inc., to release a state-of-the-art Multi-Slide Door system featuring MIWD's EnergyCore® door panels and a patent-pending track system available in two-, three- and four-track options. This unique door system features an LC-25 performance rating and allows for openings up to 16', creating a sturdy and dependable moving wall of glass that merges interior and exterior spaces. The door can also be pocketed, providing a 16' clear opening with no visible panels.
The unique interlocking frame components and innovative roller system increase ease of operation, function, and installation, promoting a completely integrated frame system. Slide Works' structurally sound frame is coupled with the thermal achievements of MIWD's EnergyCore door panels made from rot-proof MikronWood®. The door panels' French rail styling and mortise & tenon joinery creates a traditional, crafted wood look. The solid-core composite material is impervious to insects, moisture, and humidity, making it ideal in all climate types. The door is offered in white, adobe and patented SR Cap bronze exterior.
In addition to the thermal efficiency of the door panel, innovative glass packages offer further options to keep the home comfortable. The Multi-Slide door comes standard with tempered LoE3-366 triple silver insulated glass. Additional enhancements include LoE3-340 glass and laminated interior glass.
"MIWD's Multi-Slide Door is a powerful addition to the MI EnergyCore product line," stated Mike DeSoto, chief operating officer at MIWD. "The EnergyCore Multi-Slide Door meets a growing need in the custom home and upscale production builder markets. MIWD's engineering team integrated field-proven and laboratory-tested technology into a truly elegant yet cost-effective product. Our certified dealer network can sell this product with pride and confidence."
The Multi-Slide door is available for both new construction and replacement projects in the Western United States.
About MIWD
Founded in 1947, MI Windows and Doors is one of the nation's largest suppliers of energy-efficient vinyl, aluminum, and composite windows and doors. With plants in Pennsylvania, Texas and Arizona, MIWD offers a broad spectrum of windows and doors backed by exemplary customer service. The company's commitment to quality and service are exemplified by the people that represent it nationwide. For more information, visit http://www.miwd.com.