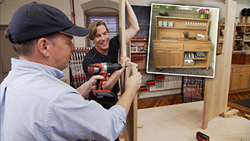 Alongside new and old friends, we share creative ideas and provide easy-to-follow steps to build craft skills and tackle new challenges.
PARKERSBURG, W. VA. (PRWEB) September 30, 2014
Woodcraft is pleased to continue major funding for "Rough Cut – Woodworking with Tommy Mac," a woodworking series that will begin its fifth season on public television Saturday, Oct. 11 (check local listings). Produced by WGBH, the series has received two nominations for a Daytime Emmy® Award and earned several Telly Awards.
"Woodcraft congratulates Tommy McDonald and his creative team, along with executive producer Laurie Donnelly, for yet another season of projects designed to inspire woodworkers to expand their skills, as well as build fine furniture," President Jody Garrett said.
Thirteen new episodes will feature larger projects, road trips and special guests, including a cast member from a reality television show. Watch a season preview at http://www.tommymac.us/blog/season-5-teaser/. For show times, check local listings or visit http://www.thomasjmacdonald.com/stationfinder/. You can also see the show on Create TV.
"Alongside new and old friends, we share creative ideas and provide easy-to-follow steps to build craft skills and tackle new challenges," show host Tommy MacDonald said. "I love expanding people's ideas of what's possible in the shop."
In the season opener, Tommy is joined by close friend Paul Wahlberg, a chef and cast member on "Wahlburgers," an A&E TV reality show about the Wahlburgers restaurant near Boston that Paul's family owns. Paul and Tommy give a step-by-step demonstration on building a Patio Prep Station for outdoor grilling. Once complete, Paul and Tommy install the handsome new piece at Alma Nove, a restaurant that Paul owns.
A road trip to Chicago provides inspiration for three projects, two of them reflective of architect Frank Lloyd Wright's work – an Arts & Crafts Rocking Chair and a Light Pendant, and a third inspired by the woodwork in the Holy Name Cathedral – a marble-topped Queen Anne Table. Special guest Tom McLaughlin, friend and furnituremaker, joins Tommy in the shop to build the rocking chair. Trips to the Shaker Village in Canterbury, New Hampshire, inspired two projects: a Simple Shaker Nightstand and a Shaker Style Clock. Master finisher Charles Neil joins Tommy for the table episode to show how to individualize pieces using finish.
Tommy also travels to chairmaker Peter Galbert's shop in central Massachusetts to build a Windsor Chair, a new project for the "Rough Cut" host. Other season 5 projects include: a Linen Press (half wardrobe, half drawers), a special two-part episode; a queen-sized 1700s-style Pencil Post Bed; a Gate Leg Table; a Hall Tree and Bench that "Wood Whisperer" Marc Spagnuolo helps Tommy build; and a massive glass-door China Cabinet that Tommy designed specifically for his home dining area. Viewers will also see inside the MacDonald home as Tommy and show regular and co-builder Al D'Attanasio install the cabinet.
During each half-hour episode, Tommy goes over the step-by-step process of building the featured project, while offering special "T-Mac tips" on technique. Joining Tommy in his shop are series favorites – Eli Cleveland, North Bennet Street School graduate, Boston-based woodworker Al D'Attanasio, and Steve Brown of the North Bennet Street School.
Fans can keep track of Tommy on the all-new "Rough Cut" website that features episodes from past seasons and exclusive behind-the-scenes clips and tips from woodworking masters. Website visitors can join community forums for in-depth project discussions or read weekly updates about Tommy's activities and work on his blog. On social media, audiences can continue the conversation on Facebook and Twitter.
"Rough Cut – Woodworking with Tommy Mac" is produced by http://www.wgbh.org and distributed by
American Public Television. Tommy MacDonald is host. Executive producer/director is Laurie Donnelly for WGBH Lifestyle Productions. Major funding is provided by http://www.woodcraft.com. Additional funding is provided by DMT, Franklin/Titebond, MICROJIG, Easy Wood Tools, Pony Tools, Steel City, and Laguna.
WGBH Boston is America's preeminent public broadcaster and the largest producer of PBS content for TV and the Web, including "Masterpiece," "Antiques Roadshow," "Frontline," "Nova," "American Experience," and more than a dozen other prime-time, lifestyle and children's series. Learn more at http://www.wgbh.org. WGBH's television channels include WGBH 2, WGBH 44, and the digital channels World and Create.
Woodcraft Supply, LLC, is the industry leader in providing a wide variety of top quality products, educational opportunities and one-on-one guidance to woodworkers of all skill levels. For more information about Woodcraft, please contact the store nearest you, visit http://www.woodcraft.com or call (800) 535-4482. To learn about Woodcraft franchise opportunities, visit http://www.woodcraftfranchise.com or email woodcraftfranchise(at)woodcraft(dot)com.