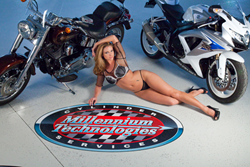 Plymouth,WI (PRWEB) October 01, 2014
The Millennium Technologies Family of Companies is geared up and ready to go for the 2014 AIM Expo in Orlando Florida. This year's convention takes place October 16-19 at the Orange County Convention Center. The Millennium Technologies Family of companies includes Ballistic Performance Components, manufacturer of lightweight Lithium-Ion starter batteries for powersports vehicles; Forward Motion, two and four-stroke engine service provider led by Eric Gorr; and Revolution Performance, aftermarket supplier of performance Harley Davidson products and services. The companies will be located on the convention map block which contains booth numbers 701, 703, 800, and 802.
The companies will be joined by Houston,TX model Ashley Freeman who will be attending the Millennium Technologies booth throughout the weekend and signing posters for convention goers.
The companies welcome all attendees to stop by the powersports family's booth to view product displays, demos, videos, and receive an autographed poster from Ms. Freeman.
This will be the second year of attendance at the AIM Expo for Millennium Technologies and its associated companies.
To keep up to date with the latest news from the AIM Expo, see the official website located at http://www.aimexpousa.com.
To learn about Millennium Technologies and it's family of companies visit http://www.mt-llc.com.