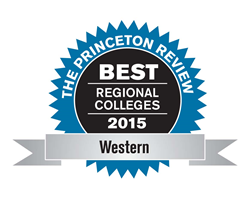 Atherton, CA (PRWEB) October 01, 2014
Menlo College is one of 124 institutions The Princeton Review recommends in its "Best in the West" section of its website feature, "2015 Best Colleges: Region by Region."
"Menlo College is one of the 'Best in the West' and I am glad that the listing in The Princeton Review confirms that assessment," said President Richard A. Moran. "There are few colleges that can match our strong academic base, athletic and leadership opportunities in a small college environment."
In the profile for Menlo College on its site, The Princeton Review writes "Those interested in Menlo will find a school that "provides a top-notch education and unmatched college experience through their dedication to student needs." Students praise the professors here for being "approachable and more than willing to help you outside of class time (and teachers who are) able to give individual attention to students and do so with pleasure."
About The Princeton Review: Founded in 1981, The Princeton Review (http://www.princetonreview.com) is a privately-held education services company headquartered in Framingham, MA.
About Menlo College: Menlo College, Silicon Valley's Business School, was established in 1927. The College is located 30 minutes south of San Francisco, in Atherton, California. It is a private, four-year, accredited, residential college. http://www.menlo.edu.