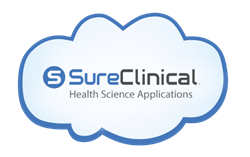 "Chris Ibell's deep domain expertise in software and services for the life science and healthcare markets will improve our ability to service global customers, partners and the community." -Zachariah Schmidt, CEO SureClinical
Rancho Cordova, CA (PRWEB) September 30, 2014
SureClinical, the cloud-based health science application provider of electronic trial master file software, today announced the appointment of Chris Ibell to its executive team as Chief Strategy Officer. Mr. Ibell will focus on helping SureClinical with broad corporate strategic initiatives including industry partnerships, services and global product marketing strategy as well as organizational development and regulatory compliance.
"We are building a team of top people who have successfully created market leading enterprise software that empowers end users while at the same time delivers on our vision of automating clinical trial and healthcare business processes," said Zack Schmidt, CEO of SureClinical. "Chris Ibell's deep domain expertise in software and services for the life science and healthcare markets will improve our ability to service global customers, partners and the community."
Chris Ibell, SureClinical's new Chief Strategy Officer, brings 25+ years of experience in leading global, enterprise software teams. Prior to SureClinical, Chris was Group Vice President for Services of Oracle Health Sciences, the market leading software provider of BioPharma applications software, where he managed a global organization of over 1,000 consultants and support engineers.
"I am thrilled to be joining such a smart, globally diverse team at SureClinical," said Chris Ibell, Chief Strategy Officer of SureClinical. "We are primed for opportunity in the emerging clinical trial and healthcare cloud application software markets, and I look forward to the future ahead as we expand our workforce globally with individuals who know what it takes to succeed in the enterprise cloud software marketplace."
More information on Chris Ibell and the entire SureClinical Executive Team can be found at http://SureClinical.com/company/
SureClinical Pricing
In an industry clouded with pricing ambiguity, SureClinical is the first among all eTMF software vendors to publish its eTMF cloud pricing online. SureClinical's transparent eTMF cloud pricing is posted online at http://www.sureclinical.com/pricing/
About SureClinical
Based in Northern California, SureClinical provides cloud-based health science applications that automate business processes and eliminate paper. SureClinical's Certified Cloud includes integrated document completion, Esigning and archiving for networks of health science organizations that wish to share documents in an automated, regulated cloud environment. SureClinical's applications run on Android®, Apple® iPad, Apple® IOS, and other popular smartphone platforms, as well as on all major web browsers. For more information, visit http://www.SureClinical.com