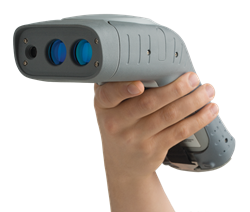 Baltimore, MD (PRWEB) October 02, 2014
MapSight Measurement Photos can now be imported into O-CALC PRO V.5
Osmose® Utilities Services, Inc. and ikeGPS Limited (NZX:IKE), today announced that the recently released O-Calc® Pro v.5 has been integrated to support utility pole data collected with the GE MapSight™ solution. Today's announcement was made at the OSP Expo 2014, the industry-leading telecom trade show for today's rapid wireless and wireline network evolution.
MapSight is comprehensive, customizable, and verifiable utility pole data collection and measurement solution. The heart of the solution is the MapSight device which combines GPS, laser rangefinder, digital camera, a digital compass, and mobile computing platform into an all-in-one field data collection device. MapSight is used by the industry leading Utility and Telecom companies to increase field worker productivity & safety while driving down pole inspection costs and speeding up the joint-use permitting processes. Additional information on MapSight can be found at http://www.gemapsight.com .
O-Calc was first released for commercial application in 1999 responding to customer demand for a comprehensive pole loading analysis tool similar to what Osmose developed for in-house use. A number of upgrades and enhancements have helped O-Calc become the industry-leading application for pole analysis. O-Calc software is used by companies across the United States for pole loading applications related to joint use, utility standards, pole replacements and system hardening. Additional information on O-Calc Pro can be found at http://www.osmoseutilities.com/o-calcpro .
The integration of the two solutions enables the MapSight device to collect laser-accurate digital photos of a utility pole with verifiable measurement and geolocation data, known as a MapSight TrueSize image. These TrueSize photos are imported into O-Calc Pro v.5 and used to measure pole attachments heights within the O-Calc system for creating pole structural models and calculating pole loading capacity. Mike Rigney, Product Manager for O-Calc Pro says, "the integration enables our O-Calc customers to import real world digital collected data from the MapSight device and use it directly within the O-Calc Pro Digital Measurement Technology for improving the quality and efficiency of their pole loading analysis."
About Osmose Utilities Services, Inc.
Osmose provides inspection, life extension and rehabilitation services and products designed to help build resiliency into T&D infrastructure. Osmose also provides corrosion mitigation and engineered repairs for steel structures, structural load analysis, and a variety of turnkey infrastructure enhancement and upgrade solutions. With 80 years of diverse experience as a foundation, Osmose proudly serves America's utilities as they manage aging infrastructure and build tomorrow's intelligent utility. http://www.osmoseutilities.com
About ikeGPS Limited
ikeGPS' mission is to revolutionize every measurer's day. More than 250 electric utility, telecom, and engineering companies are using ike's solutions today for utility field data collection and asset management. The Company has a Trademark Agreement with General Electric and markets its utility solution as GE MapSight. ikeGPS is a New Zealand business with global sales and marketing based in Colorado USA. For more information, visit http://www.ikegps.com
GE is a trademark of General Electric Company and is under license by ikeGPS LTD, 42 Adelaide Road, Wellington 6021, New Zealand.