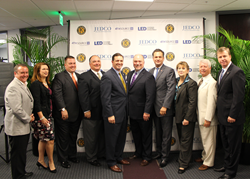 New Orleans, Louisiana (PRWEB) October 01, 2014
4th Source, Inc. opened its corporate headquarters and fourth delivery center in Jefferson Parish, yesterday, September 30, 2014. The ribbon cutting ceremony was hosted by Kenner Mayor Michael Yenni and was attended by John Young, Jefferson Parish President, JEDCO, GNO, Inc. and other Louisiana dignitaries to celebrate the new milestone for this Inc. 5000 recognized company.
4th Source's new location will create 300 direct jobs at an average salary of $50,000, plus benefits, while adding over 400 indirect jobs over the next 5 years. These jobs will be focused on supporting customers' information technology requirements. With their headquarters located conveniently in the vicinity of the Louis Armstrong New Orleans International Airport and Interstate 10, 4th Source offers easy accessibility for companies and new employees throughout the NOLA community.
"We are pleased to formalize our local presence with the grand opening of our corporate headquarters in Kenner. We have been welcomed and supported by numerous organizations and an overall business friendly climate in the area. 4th Source will work passionately to be a significant contributor to the economic growth in the local area" said Michael Wedge, 4th Source President and Chief Executive Officer. Mr. Wedge also says, "4th Source will add over 300 direct jobs to the local community over the next five years. We are already working with JEDCO, LED, and the local universities on attracting the best and brightest graduates to join our corporate family."
About 4th Source
Since 2004, 4th Source has enabled clients to optimize performance at every stage of their business by developing, building and deploying advanced software development lifecycle solutions. 4th Source partners with companies throughout the U.S. to provide reliable and cost-effective strategies that extend their in-house development teams and accelerate their technology ROI.
Proximity Matters
4th Source is a U.S. owned and operated business and IT consulting firm with more than 350 IT professionals across North America. We serve clients through our headquarters in Kenner, LA, two U.S. satellite offices, and three nearshore delivery centers in Merida, Colima and Mexico City, Mexico. Unlike offshore centers located halfway around the world, our Mexico centers offer convenient proximity, similar time zones for communication and collaboration as well as significant cost savings.
We understand the challenges U.S. companies face and the importance of doing business with a responsive and dependable firm you can trust. Our highly experienced U.S. based leadership, sales, and account executive teams include former employees of software vendor consulting organizations such as Oracle, SAP, and other Big 5 partnerships.
Recognized Healthcare and ISV Experts
4th Source develops, builds, and deploys entire IT business software services, solutions, and accelerators for both healthcare and independent software vendors (ISV). We have established long-term partnerships with several of healthcare's most successful and effective Fortune 20 companies. Our unique offerings and execution excellence have enabled us to grow by more than 40% each year for the last five years, and Inc. 5000 named us "one of the fastest-growing companies to watch" in 2012.